Information about Coronavirus (COVID-19) and Prevention
Updated at 10:42 a.m. on April 6, 2020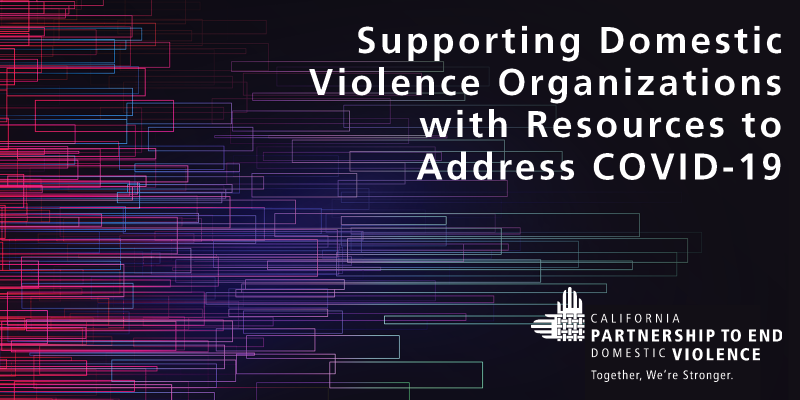 Coronavirus (COVID-19) is serious respiratory disease that continues to impact communities worldwide, and has officially been named a pandemic by the World Health Organization. Below, we've included a number of resources that can slow the rate of transmission, and support our Members as they serve survivors and advance prevention in their communities. Most importantly, programs should monitor and follow the guidance of your individual public health departments and their local emergency management systems, as those rules will likely get more specific and evolve quickly.
Regularly Updated: COVID-19: New Federal, State and Court Policies
This is a living document on the new federal, state and court policies enacted related to the COVID-19 pandemic and domestic violence programs and survivors. It will continue to be updated as new policies are released.
Questions? Please contact Michell Franklin, Capacity Building Program Manager, at michell@cpedv.org.
Resources for Survivors
➜ March 24: How to Shelter in Place if You Live With Domestic Abuse
➜ Access Support from a Number of California-based Domestic Violence Organizations: Survivors and loved ones can visit our searchable map of Members to find local domestic violence programs—the majority of which provide direct services. Advocates are ready to provide 24/7 safety planning support via the hotlines on their websites. The National Domestic Violence Hotline is also an excellent resource for making referrals: thehotline.org. The "Escape" or "Exit" button is included prominently on these sites.
➜ March 2020: Safety Planning – COVID-19 Guide: Sanctuary for Families in New York has provided eleven helpful steps for survivors, including using a buddy system code word, identifying a "safest room", and more.
➜ March 13: Staying Safe During COVID-19 & Mantenerse segurx durante COVID-19: Read a blog post from trusted advocates at the National Domestic Violence Hotline. This covers a number of areas, including creating a safety plan, practicing self-care, and reaching out for help.
Information from the Capitol and the Centers for Disease Control & Prevention
➜ April 1: California Department of Corrections and Rehabilitation - COVID-19 Preparedness
Executives and staff at CDCR and CCHCS are working closely with infectious disease control experts to minimize the impact of COVID-19 on our operations. To ensure we are ready to immediately respond to any COVID-19 related incident, CDCR and CCHCS activated the Department Operations Center (DOC) in order to be fully prepared to respond to any departmental impacts resulting from COVID-19.
➜ Regularly Updated: California Coronavirus (COVID-19) Response
➜ Regularly Updated: Centers for Disease Control Guidance on COVID-19
➜ Regularly Updated: Multi-lingual Resources from the CDC
➜ Executive Orders from Governor Newsom, kept updated by the State of California: Read the latest recommendations and mandates.
➜ March 15 - Centers for Disease Control: Interim Guidance on Mass Gatherings or Large Community Events
The Latest Partnership Statement
➜ March 13: The Partnership's Statement to Our Members: Responding to COVID-19 and Supporting Our Beloved Community
Funding Resources and Opportunities
➜ Community Foundations Nationwide Launch Coronavirus Relief Efforts
More than 200 U.S. community foundations in 49 states, plus the District of Columbia, have created relief funds to support those affected by COVID-19 — directing critical relief to local nonprofits and partnering with local governments and health organizations to help contain its spread.
➜ Verizon Small Business Recovery Fund
Thanks to a $2.5 million investment from Verizon, we are offering grants to help small businesses fill urgent financial gaps until they can resume normal operations or until other more permanent financing becomes available
➜ Loans Available for Nonprofits in the CARES Act (Public Law 116-136)
The Coronavirus Aid, Relief, and Economic Security Act CARES Act (Pub. L. 116-136) defined a number of programs that charitable nonprofits will be eligible to apply for. The chart that follows provides information on those loan options, eligibility criteria, terms, and application information.
Upcoming Calls, Webinars and Recordings
➜ Fridays from 11 a.m.-noon PST: Share and receive problem-solving tips from your colleagues
Members-only: To learn more contact us at info@cpedv.org.
Starting this week, the Partnership is offering two new calls for Members working in DV organizations—and we welcome people in ALL positions to join, including shelter managers, preventionists, advocates, therapists, child counselors, directors, managers, etc.
Our regional and all-Member calls are non-facilitated, open forum opportunities to discuss what's working for organizations, ask questions of one another, and share resources. Most importantly, this will be a space to join together in community, and know that you are not going through addressing COVID-19 alone. Others are grappling with the same concerns. Together, we'll share creative, innovative ways to solve problems and provide services—and avigate this new reality we all face.
➜ Members Only Regional Calls: To learn more contact us at info@cpedv.org.
Bay Area: Tuesdays from 11 a.m. to noon (starting next week, 3/31)
North: Wednesdays from 1-2 p.m. (starting next week/ 4/1)
Central Coast: Tuesdays from 10-11 a.m. (starting next week, 3/31)
Los Angeles: Tuesdays from 1-2 p.m. (starting next week, 3/31)
South: Thursdays from 2-3 p.m. (starting next week, 4/2)
Far North: Mondays from 11 a.m.-noon (starting next week, 3/30)
Central Valley: Wednesdays from 11-noon (starting next week, 4/1)
➜ April 1st from 10:00 AM – 11:15 AM PST: Federal Policy Update: Coronavirus Funding and Policy on Child and Youth Homelessness
Congress has enacted several packages of sweeping legislation and funding to help communities respond to the coronavirus outbreak. Learn about the latest developments, get your questions answered, and find out what you can do to shape implementation and help direct resources for children, youth, and families experiencing homelessness.
➜ April 1 - noon-1 p.m.: Confidentiality & Mandated Reporting and COVID-19 – Partnership Members Only: We've heard your confidentiality questions related to COVID-19—so, to adapt to the field's immediate needs, we are adapting April's topic. On Wednesday, April 1st from noon-1 p.m., Caroyln Walker and Arati Vasan from FVAP will briefly review requirements under federal and state law in the wake of orders at the county, state and federal level, and then open it up to questions about what issues you may be experiencing working with survivors, public agencies and others.
➜ April 6th from 11 a.m.-12 p.m. PST: Addressing Tech-Enabled Domestic Violence during COVID-19
Join Adam Dodge, Founder of EndTAB.org (Ending Technology-Enabled Abuse) and long-time Member of the Partnership, for a new webinar addressing tech-enabled domestic violence during COVID-19
➜ April 8th from 2:00p.m. to 3:00p.m. PST: Wellness Practices for Advocates in the time of COVID-19
Wellness Practices for Advocates in the time of COVID-19, a webinar, for California partnership to End Domestic Violence (CPEDV) participants. This training includes an overview and discussion of crisis support and advocacy in the time of COVID-19, activities in break-out groups, group discussions, inspiration in organizing models, and guided centering & grounding techniques.
➜ April 17th from 10 a.m. to 12 p.m. PST: Understanding Paid Family Leave during the COVID-19 Pandemic—a Three-Part Training Webinar for Preventionists, Advocates, and Organizers
With the declaration of COVID-19 as a pandemic, the need for paid leave is exploding—with thousands of requests being filed in California. Yet, there is confusion about who is eligible, how to access these benefits, how to take time without risking long-term job loss, and what additional protections and benefits are available now.
For the health and safety of our communities, we're offering free Paid Leave trainings, alongside the California Work and Family Coalition. Don't miss our comprehensive 3-part webinar series, presented in English or Spanish, on April 17th & 22nd, and May 5th. On each training date, the English sessions will be held from 10 a.m.-12 p.m. and the Spanish sessions will take place from 1-3 p.m.
➜ April 21 from 10:00 AM – 11:00 AM PST: Understanding LGBTQ Identities and How To Engage The Community
We Breathe: Supporting Tobacco-Free LGBTQ Communities and RISE: Rural Initiatives Strengthening Equity are proud to collaborate on a LGBTQ/Rural webinar.
➜ April 21 – 11 a.m.-12:30 p.m. PST: Technology as a Tool for Advocacy: Accessible and Safe Use of Technology to Serve Survivors with Disabilities During COVID-19 and Beyond: Thoughtful implementation of accessible technology now can permanently transform advocacy for survivors with disabilities and Deaf survivors. In this webinar, Rachel Gibson with the National Network to End Domestic Violence's Safety Net Team will review best practices for using technology to ensure that it is safe, accessible, and confidential for all.
Advocacy Efforts
➜ March 26: Take Action: #FreeLiyah and All Criminalized Survivors!
No jails or prisons are safe: currently incarcerated people are at a higher risk of COVID-19. As of March 17, one person at the Yuba County Jail has been hospitalized for flu-like symptoms and placed in solitary confinement. No one at Yuba County Jail has been tested.
➜ March 20: Supporting California's Domestic Violence Service Providers During COVID-19, issued by the California Partnership to End Domestic Violence: Read our recommendations to state legislative leaders, the Governor's office, and the Judicial Council.
➜ March 19: Letter from National sexual and domestic violence organizations to the U.S. House of Representatives and the U.S. Senate: The Partnership supports the items included in this letter, which include a request for critical support for victim services to operate, serve, shelter and house survivors with increased, flexible resources.
Resources to Support Domestic Violence Organizations
➜ March 31: Frequently Asked Questions on Allowable Use of Family Violence Prevention and Services Act (FVPSA) Funds for Domestic Violence Shelter and Supportive Services
➜ March 30: Administration for Children and Families Information Memorandum: IM-ACF-OA-2020-01
ACF grant flexibilities in conducting human service activities related to or affected by COVID-19
➜ March 27: National Network to End Domestic Violence information on technological resources and safety
Check out our latest blog post explaining some new information and resources regarding video and communication platforms. We have two new handouts (Video Conferencing & Digital Communication Platforms Comparison Chart and Digital Written Consent to Share Information) linked within the blog and are planning for two more to come out by the end of next week. We have been getting a lot of questions about certain platforms, such as Zoom, and this blog and the linked handouts address some of these.
➜ March 25: CA LGBTQ Health and Human Services Network
The Network has a webpage dedicated to COVID-19 impacts on LGBTQ Californians, which is being updated frequently. Additionally, please click here to find useful social media graphics.
➜ March 23: Analysis: The Impact of COVID-19 on Immigrant Survivors
As daily activities ground to a halt in the United States to slow the spread of COVID-19, Americans have been confronted with a range of practical, financial, emotional, and mental health impacts. For immigrant survivors of gender-based violence, many of whom are living with the effects of trauma or coping with ongoing abuse, this is an especially difficult time.
➜ March 21: Grantee Update #2: Guidance on Short Term Administrative Relief for Grantees Impacted by COVID-19 (from OJP)
On March 19, 2020, the Office of Management and Budget (OMB) issued OMB memorandum M-20-17, "Administrative Relief for Recipients and Applicants of Federal Financial Assistance Directly Impacted by the Novel Coronavirus (COVID-19) due to Loss of Operations," affording Federal awarding agencies with additional flexibilities to provide administrative relief to funding recipients affected by the loss of operational capacity and increased costs due to the COVID-19 crisis. The Office of Justice Programs (OJP) provides the following short term relief for various administrative, financial management, and audit requirements under 2 CFR Part 200, Uniform Administrative Requirements, Cost principles and Audit Requirements for Federal Awards. Please keep in mind that in accordance with M-20-17, these exceptions are time-limited and the flexibilities afforded to Federal awarding agencies will be reassessed by OMB within 90 days of the issuance of its memo.
➜ March 19: Peer Support Call on COVID-19 Recording, provided by the National Alliance for Safe Housing: Listen to a discussion about protective measures in shelter settings, funding considerations, and more.
➜ March 19: Legal Technical Assistance from the Battered Women's Justice Project (BWJP): BWJP's help line is active between 10 a.m and 2 p.m. CDT from Monday through Friday each week–and can be reached at 800-903-0111, prompt 1. Victims/survivors and professionals can reach them to connect with an advocate as usual, or send an email at technicalassistance@bwjp.org.
➜ March 19th Message from OVW Acting Director Rogers Regarding COVID-19: This guidance also includes a FAQ document on the payment and use of leave for grant-funded staff.
➜ March 16: California Courts Newsroom Press Release: California Chief Justice Issues Guidance to Expedite Court Emergency Orders
➜ Supplementing the 40-Hour Curriculum with the Partnership's Distance Learning Tool: If COVID-19 has prevented your organization from moving forward with 40-Hour Curriculum Trainings, we offer our Distance Learning Tool as a way to engage staff and volunteers remotely. The tool can save you time and resources by supplementing the State's requirements for Domestic Violence Counselors. Questions? Contact us at distancelearning@cpedv.org.
➜ March 13: NCADV -What Domestic Violence Organizations Need to Know about Coronavirus
Like you, NCADV has been closely monitoring the impact and potential consequences of the novel coronavirus (COVID-19). We honor your tenacity, creativity and strength as you work to continue providing such critical services during these uncertain times to those in crisis, despite the risks, the fear, the constant changes, and the newly developing obstacles. As such, we hope the following material helps streamline information and resources for you so you can continue providing those critical services.
➜ March 13: Preventing & Managing the Spread of COVID-19 Within Domestic Violence Programs, released by the National Resource Center on Domestic Violence: The National Resource Center on Domestic Violence (NRCDV) gathered select resources that can offer helpful guidance for domestic violence programs in preparing for and responding to the Coronavirus pandemic.
➜ Updated regularly: Updates and Information on COVID-19, sent by Futures Without Violence: This includes resources and information for survivors, communities, as well as domestic and sexual violence advocacy organizations and service providers.
➜Last revised October 6, 2017: CDC – Preventing Violence After a Natural Disaster
Natural disasters can cause a lot of stress on individuals, families, and communities. Stress can increase the risk for violence in the home, neighborhood, or community. Efforts to prevent violence after a natural disaster should focus on supporting the physical and emotional needs of individuals and families as well as restoring community-based services.
➜Published in 2008: Sexual Violence in Disasters: A planning guide for prevention and response
This guide, written by Alisa Klein, offers readers important information about sexual violence and disasters that will help communities to understand the connection and develop better disaster responses.
➜ Resources from the National Network to End Domestic Violence:
➜ Information on joining a Community of Practice for Intimate partner violence service professionals, offered by House of Ruth in Maryland: The House of Ruth Maryland Team, is offering a free technology resource that can help us pool our best ideas and share resources quickly across the nation and, eventually, around the world.
➜ March 12: Update to Family Violence Prevention and Services Program (FVPSA) Grantees: This includes information on funding for states to address COVID-19, guidance to prepare homeless shelters, and more.
➜ Revised in 2018: Emergency Preparedness Toolkit – A Guide for Domestic Violence Organizations (created by the California Partnership to End Domestic Violence): While our toolkit does not address COVID-19, it does provide best practices for emergency preparedness and response.
➜ Northeast Georgia Council on Domestic Violence Services: Building Emergency Action, Preparedness and Pandemic Plan: See example protocols for maintaining shelter during a pandemic.
Resources and Guidance for Shelters
➜ March 30: Violence Free Colorado – Working with Survivors in Shelter During COVID-19
➜ March 30: Things to Consider for Shelter Programs During COVID-19
Employment Resources
➜ March 25: Federal Law Alert – COVID-19: April 1 Effective Date for FFCRA Leaves
A ThinkHR alert about the paid leave offered through the Families First Coronavirus Response Act (FFCRA) that'll go into effect on April 1, 2020. It includes links to the U.S. Department of Labor website with a FAQ and fact sheets for employers and employees. We are still waiting on more info and guidance about implementation.
➜ March 19: FACT SHEET: The Families First Coronavirus Response Act
A helpful analysis of the federal bill from A Better Balance.
➜March 16: Paid Sick Days and Paid Family and Medical Leave in the Families First Coronavirus Act (H.R. 6201)
The Families First Coronavirus Act includes provisions to ensure approximately 61 million workers have up to two work-weeks of job-protected, immediately available paid sick days for coronavirus-related health and caregiving reasons, and to up to three months of job-protected, paid family and medical leave in cases where additional time is required. The time can be used for quarantine, diagnosis or care of oneself or a family member, or to care for a child whose school or usual source of care is closed. The bill also includes tax credits to reimburse employers for the cost of wages paid for the emergency paid sick days and paid leave.
➜ State of California: Relief Options from the Employment Development Department: Explore a variety of support services to individuals affected by COVID-19, including Paid Family Leave, Disability Insurance, and Unemployment Insurance.
➜ Updated Regularly: Coronavirus – Information, Response, And Considerations from the Western Center on Law and Poverty: This resource page includes important information on benefits for Californians impacted by COVID-19, particularly for those with low, reduced, or no income.
➜ March 10: Employment Resource from Legal Aid at Work - Coronavirus – Frequently Asked Questions, released March 10: Read common questions, including the following: "Due to coronavirus (also known as COVID-19), my employer has cut my hours, forced me to take unpaid leave, or ended my employment. What can I do?"
Access to Healthcare
➜ Covered California Special Enrollment Period Due to COVID-19 Now Available: Learn more about applying for health care coverage.
➜ March 19: Update on Access to Health Care for Immigrants and Their Families: The National Immigration Law Center provides some reminders about access to health care for immigrants and their family members, including funding that Congress recently made available for Coronavirus testing.
Information for Nonprofits and Small Businesses
➜ March 31: Protecting Privacy in the Age of Coronavirus: Digital Tools for Nonprofits
Our current global coronavirus pandemic leaves many casualties. Although nowhere near as immediate or searing as sickness and death, the potential loss of our privacy is among them.
➜ March 30: Sierra Health Foundation Northern California COVID-19 Response Fund
The Center at Sierra Health Foundation is partnering with funders, community organizations and private contributors to raise funds to support nonprofits that work directly with vulnerable community members in the counties of Alpine, Amador, Butte, Calaveras, Colusa, El Dorado, Glenn, Lassen, Modoc, Mono, Nevada, Placer, Plumas, Shasta, Sierra, Siskiyou, Solano, Sutter, Tehama, Trinity, Tuolumne, Yolo and Yuba.
➜ March 29: Seyfarth Nonprofit Guide to the CARES Act
The Coronavirus Aid, Relief, and Economic Security Act (the CARES Act) became law on March 27, 2020, and is designed to assist nearly every facet of the American economy, including the charitable sector. One highlight is the Paycheck Protection Program, which generally makes loans available to certain tax-exempt organizations to cover 2.5 months of payroll costs. The loans are later completely or partially forgiven depending on the borrower maintaining staff levels and limiting compensation reductions for the 8-week period after getting the loan.
➜ March 28: CARES Act for Nonprofits – What's in the Legislation For Charities?
Friday Afternoon, March 27, the Congress passed and the President signed into law the Coronavirus Aid, Relief, and Economic Security (CARES) Act, a $2 trillion economic stimulus package legislated to provide immediate relief for nonprofits, businesses, individuals and state and local governments. The CARES Act provides significant funding for 501(c)3 organizations.
➜ Families First Coronavirus Response Act (FFCRA or Act) Fact Sheet
The Families First Coronavirus Response Act (FFCRA or Act) requires certain employers to provide their employees with paid sick leave and expanded family and medical leave for specified reasons related to COVID-19. These provisions will apply from April 1, 2020 through December 31, 2020.
➜ Updated Regularly: Funds for Coronavirus Relief
Candid is compiling a list of funds specifically established in the wake of coronavirus. The list focuses on funds hosted at US-based foundations that serve nonprofits, though others outside of this criteria may appear as well.
➜ March 25: Q&A about using TANF to respond to COVID-19
Questions and answers about TANF and the Coronavirus Disease 2019 (COVID-19) pandemic
➜ March 21: Article on Medium by Leila Billing
What does feminist leadership look like in a pandemic?
➜ March 21: LyftUP Community Grants Program
To donate tens of thousands of rides to those with essential transportation needs — especially for families and children, low-income seniors, doctors and nurses
➜ March 23: Sempra Energy Foundation: COVID-19 Nonprofit Hardship Fund Announcement: The Sempra Energy Foundation announced a $1 million hardship fund for small to medium nonprofits. Nonprofits can apply to receive a grant between $500 to $50,000.
➜ Updated Regularly: Philanthropy California's COVID-19 Response Page: Grantmakers can browse through funder briefing webinars, and nonprofits can explore a vetted the list of response funds help direct resources to vulnerable communities.
➜ March: Sample Temporary Sick Leave Policy Changes: Read one organization's recently-adapted policy to support employees who have flu-like symptoms.
➜ Updated Regularly: COVID-19 Resources for California's Nonprofits: Read about COVID-19 related funding opportunities, employee and employer resources, and more.
➜ March 19: Paid Administrative Leave Policy Sample: Organizations can use this language and guidance to supplement their own policies, if COVID-19 makes it necessary for an office to close and/or require staff to take time away from work that they would normally not need to take.
➜ March 16: Small Business Association Press Release: SBA Offers Disaster Assistance to California Small Businesses Economically Impacted by the Coronavirus (COVID-19). (This also includes information for nonprofits.)
U.S. Small Business Administration Loan Programs
➜ Information on Payroll Protection Program Loans, Sent from the Pennsylvania Coalition Against Domestic Violence: All coalitions and programs can apply for Payroll Protection Program Loans. If staff are not laid off during the 8-week period, the loan can be forgiven, but even if it's not, the interest rate is very low. It's the one time the government is going to provide funds that can be considered general operating funds.
➜ April 3: Payroll Protection Program Loans and Legally Mandated Emergency Leaves : Legally Mandated Emergency Leaves (Mandated by the Families First Coronavirus Response Act): All employers of 500 employees or less are required to provide Emergency Paid Sick Leave (EPSL) and Emergency Family Medical Leave (EFMLA). The Partnership has prepared a document that helps break down what qualified for each type of leave, levels of pay and documentation required, as well as tips for receiving a payroll tax credit to offset the cost of these new emergency leaves. The Partnership also has links to DOL and IRS fact pages and required employee posters.

Payroll Protection Program Loans through the Small Business Administration – Available April 3- June 30, 2020: The new Payroll Protection Program loan program, authorized under Congress' "Coronavirus Aid, Relief, and Economic Security" or CARE Act for COVID-19 relief, is available for non-profit organizations with fewer than 500 employees. The good news: You do not have to demonstrate current revenue loss to be eligible and the loan is up to 100% forgivable, if it is used for payroll, rent or mortgage interest (not principal), and certain utilities during an 8-week period after the loan, and if you maintain the same number of staff (including some contractors) and payroll for those 8 weeks. See more resources including a sample application, information about banking institutions that are set up to accept loans and sample calculations.
➜ Nonprofit Paycheck Protection Program (PPP) Application
➜ Paycheck Protection Program: Sample Loan and Forgiveness Calculations
➜ Loans Available for Nonprofits in the CARES Act
➜ Paycheck Protection Program Application Form
➜ March 19: FACT SHEET – ECONOMIC INJURY DISASTER LOANS
Housing and Homelessness
➜ March 30: COVID-19: California Eviction Protections
Legal Services of Northern California (LSNC) wants to share important news with California renters about COVID-19 eviction protections.
En Espanol: COVID-19: Protecciones de Desalojos de California
➜ COVID-19 Screening and Triage Tool
For Providers of Youth Experiencing Homelessness
➜ March 30: Protecting Renter and Homeowner Rights During Our National Health Crisis
On March 27th, the Coronavirus Aid, Relief, and Economic Security Act (CARES Act) became law. NHLP has two new resources on our website about the protections for tenants and homeowners in the CARES Act
For Tenants: CARES Act Eviction Moratorium Summary
For Homeowners: Foreclosure Protections and Mortgage Payment Relief for Homeowners in the CARES Act
➜ March 27: What's in the Coronavirus Bill for Homelessness?
The Senate has passed the CARES Act, the third and largest supplemental spending bill responding to the COVID-19 epidemic and resulting economic dislocation. Every indication is that the House of Representatives will pass the bill and the President will sign it.
There are many provisions that will be important for communities seeking to keep homeless people safe and prevent increases in the number of people who are homeless.
➜ Ongoing Updates: HUD Exchange COVID-19 Prevention and Response for Homeless Providers: Daily Resource Digest
The recent emergence of the Coronavirus Disease (COVID-19) calls for enhanced cooperation between public health authorities, homeless service systems, and other partners at the local level. To support these partnerships and the vulnerable households served, relevant federal agencies are issuing guidance from subject matter experts on lessons learned from previous response efforts to infectious diseases.
➜ March 23: Business, Consumer Services and Housing Agency (BCSH) Press Release
California Awards $100 Million to Cities, Counties and Continuums of Care to Help People Experiencing Homelessness During COVID-19 Pandemic
➜ March 18: Interim Guidance for Homeless Assistance Providers on Novel Coronavirus (COVID-19)
This interim guidance is based on what is currently known about Novel Coronavirus (COVID-19)and is a follow up to the guidance released on March 10, 2020. The Business, Consumer Services and Housing Agency (BCSH) will update this interim guidance as needed and as additional information becomes available.
➜ Updated Regularly: Protecting Renter and Homeowner Rights During Our National Health Crisis: This resource page from the National Housing Law Project provides useful tools for housing advocates.
➜ Updated Regularly: Coronavirus and Homelessness: The National Alliance to End Homelessness provides a multitude of resources, as well as practical takeaways for service providers.
➜ COVID-19 Resources from John Burton Advocates for Youth: Efforts are underway to address the needs of foster youth, homeless youth and other vulnerable populations. Several are listed here, including free laptops, cell phones, and internet.
➜ March 17: Guidance from the State of California to CoCs re: Accommodating Unsheltered Invidivuals Who are Homeless in Motels
➜ March 12: Attention: Homeless Assistance Providers - A Message from the California Department of Housing and Community Development (HCD) – March 12: Read guidance from the State of California Business, Consumer Services and Housing Agency on health preparedness for homeless assistance providers.
➜ March 10 Webinar Recording from HUD: Infectious Disease Preparedness for Homeless Assistance Providers and Their Partners
➜ March 9: Interim guidance for homeless service providers to plan and respond to coronavirus disease 2019 (COVID-19): The Centers for Disease Control and Prevention shares tips for addressing key prevention strategies in your emergency operations plan and more.
➜ United States Interagency Council on Homelessness Coronavirus (COVID-19) Resources: These resources can be used by homelessness services systems in response to the Coronavirus–but may not be specific to DV organizations.
Mental Health and Well-Being
➜ American Foundation for Suicide Prevention: Taking Care of Your Mental Health in the Face of Uncertainty: Dorren Marshall, Ph.D. provides a some step for protecting our mental health during the Coronavirus outbreak.
Articles and Blog Posts on Domestic Violence and Social Justice Issues During the COVID-19 Pandemic
➜ April 1: The Trace article by Ann Givens
Surging Gun Sales and Shelter in Place Orders Make a Dangerous Mix for Domestic Violence
➜ March 31: Mother Jones article by Madison Pauly and Julia Laurie
Domestic Violence 911 Calls Are Increasing. Coronavirus Is Likely to Blame
➜ March 31: Giffords article by Julia Weber
COVID-19 Puts Domestic Abuse Survivors at Even Greater Risk
➜ March 31: Vice News article by Tim Hume
France Is Putting Domestic Abuse Victims in Hotels During Coronavirus Lockdown
➜ March 24: Los Angeles Times article By Laura Newberry, Nicole Santa Cruz
Domestic abuse victims in 'worst-case scenario' during outbreak, providers say
➜ March 23: New York Times article by Tanya Selvaratnam
Where Can Domestic Violence Victims Turn During Covid-19?
➜ March 23: Sacramento Bee Article by Molly Sullivan: For domestic violence victims, coronavirus orders mean isolation with their abusers
➜ March 21: CNN Opinion Piece by Cecilia Menjívar, Jacob G. Foster and Jennie E. Brand
Don't call it 'social distancing'
➜ March 18: Medium article by Yamini Oseguera-Bhatnagar
7 Habits of Highly Effective Work-from-home Mamas
➜ March 18: Time Magazine Article by Mélissa Godin: As Cities Around the World Go on Lockdown, Victims of Domestic Violence Look for a Way Out
➜ March 18: Blog Posts by Elena Ong, PHN, MS, Public Health Newswire: We need equity-oriented solutions to COVID-19, not stigma, discrimination and fear
➜ March 16: Blog Post by Vivian Chau and Dr. Lawrence Loh, the National Collaborating Centre for Determinants of Health: Stigma, discrimination, health impacts and COVID-19
➜ March 12: Huffington Post Article by Melissa Jeltsen: Home Is Not A Safe Place For Everyone: As "social distancing" is urged to contain the Coronavirus outbreak, home is exactly where the danger lies for some.
➜ March 2: Domestic Violence Cases Surge During COVID-19 Epidemic: Rights activists say law enforcement officials need to be more responsive to reports of gender-based violence.
Supporting Youth and Families
➜ March 26: Tangible Support for Undocumented Communities During COVID-19
Immigrants Rising is committed to serving undocumented communities during the Coronavirus (COVID-19) pandemic. We put together this list of resources to help undocumented immigrants navigate the crisis. Please contact us if there are additional resources that you would like to add to this document. We will continue to update it as the situation develops.
➜ March 24: Girl*-Powered Activities for Parents, Caregivers and Educators
Alliance for Girls* is compiling a list of resources for our community of members, partners, girls and gender-expansive youth and their families. We will update the list as more information becomes available.
*"Girls" refers to gender expansive youth (cis girls, trans girls, non-binary youth, gender non-conforming youth, gender queer youth and any girl-identified youth).
Related Links