Accountability Book Club
A Virtual Gathering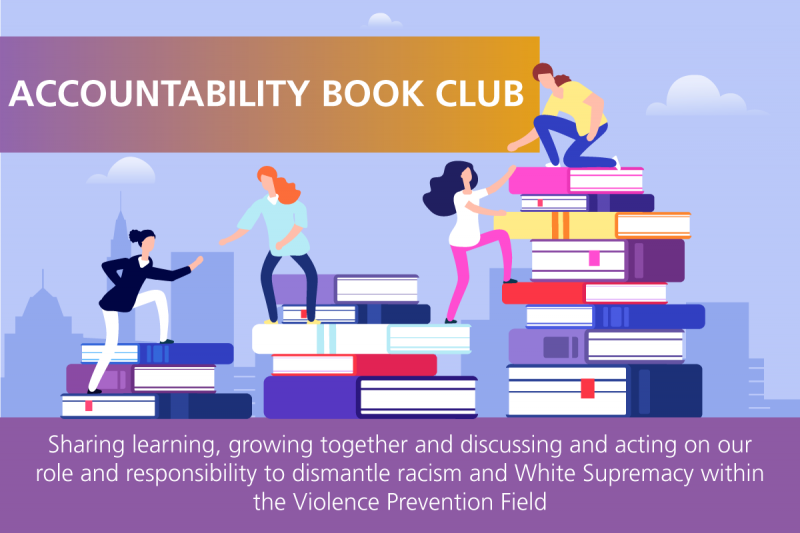 Starting on February 12, 2021, then every other Friday

2:00 - 4:00 p.m. PST

Registrations are now closed. — We are happy to share that our first book club has 36 participants signed up, representing 22 orgs in California and one fabulous preventionist/educator from ALASKA!

Stay tuned for next book club announcement — open to anyone working at a Domestic Violence or Sexual Violence org and/or anyone committed to this work.
The Partnership along with the Aspiring White Allyship group are committed to the advancement of our work and will be leading the Accountability Book Club, centering on Racial Justice and the dismantling of white supremacy within the DV & SV field.
As President Biden expressed in an Executive Order, "every person should be treated with respect and dignity and should be able to live without fear." We believe that the same rule applies to where you work. No one should work in fear! And as agencies committed to the prevention of violence, we must look within ourselves and our actions to prevent further harm, while repairing the harm that has been caused.
The purpose of this book club is not only to read together… but DO together! The discussions will encompass strategic ways to apply the lessons learned, at work and beyond.
For this first book club, participants will be reading Uprooting Racism, by Paul Kivel and will meet every other Friday, starting on February 12th, from 2 to 4pm.
Why start with a book written by a privileged White man? - Because one of our goals is to build genuine allyship, especially among White people who hold positions of power in our field. Through these discussions, with staff from all levels of the hierarchy, we will create spaces to hold each other accountable, call each other in, and show up for one another.
Thank you all so much for your support and interest! — Please stay tuned because the plan is to start a new book in a couple of months!
If you have any questions, please contact Alejandra Aguilar, Statewide Violence Prevention Program Specialist at Alejandra@cpedv.org
Links to Executive Orders:
Related Links