Youth in the Lead Convening: Healthy Relationship Education and Community Organizing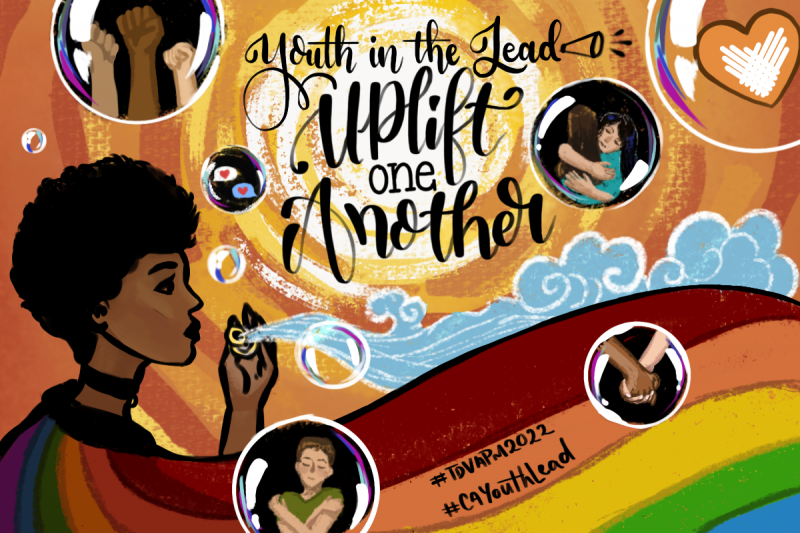 Date: Feb 28, 2022
Time: 04:30 PM – 06:00 PM
Price: Free
Open to all youth working to promote healthy relationships
$50 Visa gift card provided to participants
Connect with youth across the state who are also working to end teen dating violence! This is meant to be an affirming space where youth and adult presenters acknowledge the added stress of the pandemic on our lives–and provide information on self and community care, discuss how they have adapted outreach efforts, and explore ways to build community solidarity as you educate peers about healthy relationships. Each youth registrant will receive a $50 Visa gift card for their time and participation.
Presenters:
Alyssa Fuellas Ayala, Co-President – Jeneration J at Jenesse Center
Alyssa Fuellas Ayala is one of the co-presidents of the Youth Leadership Council. Alyssa is currently a junior who attends Immaculate Heart High School in Los Angeles, California. Her favorite subjects are English and Spanish, and she is fluent in both languages. The reason she joined the Youth Leadership Council at the Jenesse Center is that she wants to advocate for those who have experienced domestic violence and bring change and hope to those initiatives. She aspires to be in the medical field pursuing either as a physician's assistant or nurse practitioner specializing in aesthetics.
Julia Francisco, Youth Leader - STOP Club at Peace Over Violence
Hello, my name is Julia Francisco and I am a senior at the Los Angeles School of Global Studies. Some of my hobbies include drawing and writing poems. I joined STOP Club and it with it Peace Over Violence. Over the last few months, I've learned about the cycle of violence and violence prevention and how to be an active advocate in my community. Thanks to STOP Club I am now interested in pursuing a career that will give back to my community. Although I am unsure what that career will be, I am looking forward to it!
Leila Wu, Youth Leader – Center for the Pacific Asian Family
Hi, my name is Leila Wu. I'm currently a college student at Pasadena City College, living in Los Angeles, double-majoring in Asian Studies and Political Science. I hope to become a family law lawyer in the future, or a Foreign Service Officer in Asia. Currently, I'm learning Mandarin and Cantonese, a Hong Kong dialect. I'm very passionate about social advocacy, especially in regards to mental health in the Asian-American community. I am invested in my identity as a Chinese-American, particularly in Chinese history, clothing, martial arts, and media.
Kisha Mehta, Youth Leader – Center for the Pacific Asian Family
My name is Kisha Mehta, and I am a first-year college student at Cypress College studying economics and political science. As a huge advocate of creating environments where youth are affirmed for leading with authenticity, I am so grateful to CPAF for the work they do as an organization, as well as for the opportunity to present at this Youth Convening. In the future, I hope to matriculate into law school, and work in children's rights law and public policy. When I am not pursuing my academic goals, I enjoy watching documentaries narrated by David Attenborough, perfecting the art of homemade pasta, and adding to my (considerably vast) collection of taran blankets!
Jacob Melgar, Youth Leader - STOP Club at Peace Over Violence
Hello, my name is Jacob Melgar. I'm a student from Los Angeles and I go to the Los Angeles School of Global Studies and I live in Los Angeles.
Some of my hobbies are helping others and trying new food spots wherever I happen to be. What led me to work with Peace Over Violence was the sense of importance I knew educating and working with others means to me.
Some of my aspirations are to attend a 4 year university and becoming more proficient with typing and finishing up high school.
Brian Arias, President - STOP Club at Peace Over Violence
Hello, my name is Bryan Arias I am a student from the Los Angeles School of Global Studies. I am currently a senior and I'm also the president of Students Together Organizing Peace Club, a.k.a. STOP Club.
Some of the things I'm passionate about are laws and law enforcement, but my hobbies are watching anime and reading manga. But most importantly what lead me to work with Peace Over Violence is my interest in my community and the problem it faces and how little people were informed about violence. With this, it has led me to pursue the career of a Deputy Sheriff for LA County and will be studying Criminal Justice starting this fall of 2022.
Isha Raheja, Youth Advisory Committee Member – House of Ruth
My name is Isha Raheja and I'm a student in my junior year at Claremont High school. I live in Claremont with my dad and Pomona with my mom. Though junior year has been stressful I've tried to carve out time to do the things I love, such as hanging out with my friends, upcycling thrifted clothes, writing for my school newspaper, making earrings, and helping my mom take care of our bees and chickens. I'm passionate about all issues regarding social justice such as women and LGBTQIA+ rights as well as policing in schools. A huge issue facing my campus that I've been trying to ameliorate this last year has been inadequate sex and gender education as well as access to menstrual products. I currently serve as a youth ambassador to the non-profit organization AMAZE which aims to provide safe, comprehensive sex education to the whole world through fun and engaging educational videos. I've been using the resources and advice I've collected from my time at AMAZE to implement change on my high school campus. I started a club called SERA which stands for sexual education reform and awareness this year which aims to integrate a better sex education curriculum, that is actually enforced, into my campus as well as accessible menstrual products which are already mandated in the state of California but my school has had a bit of an issue actually following. I was led to working with House of Ruth and stopping domestic violence through a personal experience. My friend and mother suffered intimate partner violence and that, obviously along with a deep love and admiration for women and their equality and safety, made me want to get involved locally in changing my community and helping others affected by intimate partner violence. Despite the onslaught of questions about my future from family members and others in my life I have yet to come up with a general plan for my future. I know I want to help people but I love both stem and the humanities too much to decide which route to take or major to pick. I definitely plan on going to a four year university and want whatever career or path I choose to take to be one of enrichment both academically and spiritually.
Mercedes Tune, Capacity Building Project Specialist – California Partnership to End Domestic Violence
Mercedes brings to the Partnership a broad and rich international perspective on cultural dynamics and social justice, based on her experience with diverse populations in Mexico and the USA. She has been a community organizer, a manager of Education and Health affairs for refugee populations, and a project designer consultant. She has a degree in Education and a specialization in Environmental and Health Education. Mercedes is a fellow of the 2015 National Leadership Academy for Women of Color; 2016 fellow of Lead Up! WOC National Academy, and was recognized with a Honorable Mention in 2012 of the "Ed Minimum" Legacy Award in Tuolumne County, CA, in recognition for her commitment and the changes her efforts have made in her community.
Questions?
Please contact Jessica Merrill at jessica@cpedv.org.
Related Links