S. Suresh
Community Leader and Activist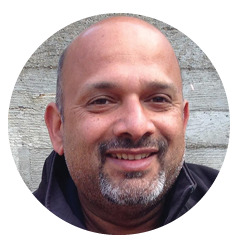 As a community leader and activist, Suresh is vocal on social justice issues including domestic violence, gun control, LGBTQ rights, religious and caste-based discrimination, environmental rights, and racism in all shapes and forms. He shares his viewpoints and experiences through his blog, and Fair Observer, a crowdsourced multimedia journal.
Prior to joining The Partnership board, Suresh served as a member of the Board of Trustees at Maitri for three years. During his tenure there, he participated actively in issues critical to addressing domestic violence in general, and within the South Asian community in specific. He also played an instrumental role in helping Maitri to bring men into difficult conversations around domestic violence.
A product executive with more than 25 years of experience in enterprise software, Suresh is a writer, avid hiker, dog lover, amateur actor and environmentally conscious. He is a volunteer at HealthTrust, a nonprofit that works towards building health equity in Silicon Valley.
Suresh holds graduate degrees in Computer Science and Chemistry from Birla Institute of Technology and Science, Pilani, India.
Related Links