Youth in the Lead Rally – Orange Day at the Capitol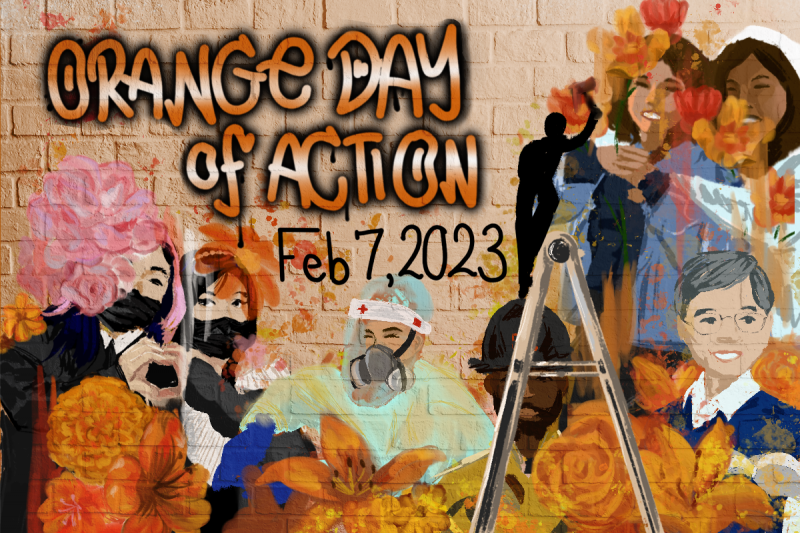 Youth in the Lead Rally – Orange Day at the Capitol
Tuesday, February 7th
Time: 10-11 a.m.
West Steps of the California State Capitol
Wear orange!
Posterboard/cardboard signs welcome (no sticks)
Masks available for anyone who wants one
The Partnership and youth leaders from across California are proud to invite you to a rally encouraging us to work together to prevent and end teen dating violence, as well as support survivors. 1 in 3 youth experience teen dating violence, but prevention is seriously underfunded in California. These efforts require time and resources, which comes from crucial state funding. Our rally is all about creating solidarity with youth leaders as they educate legislators about the need behind this funding in 2023 and beyond.
You're Invited!
In addition to working toward a common purpose of state budget funding—youth and adults united—our rally provides opportunities for everyone invested in teen dating violence prevention! Join us!
Youth Preventionists: Get to know other youth working on this issue and strengthen your knowledge with what they share about the signs of abuse, statistics on its prevalence, and their activism. And as Youth Leader Noemy Aguilar from El Sol shares, "Be heard and make a difference. Your presence can make sure our voices heard by people who can make a change."
Adult Preventionists: Show up to create a big crowd urging funding toward your work! This is one way to work in tandem with youth to achieve our common goals, and also network to share and receive resources.
Parents: Your support in this rally and in the fight for prevention is especially important, as Teens for Courage finds that currently, over 80% of parents either don't believe or don't know that teen dating violence is such a major issue. Learn how you can get involved to support the youth in your lives and stop violence in your community. As Youth Leader Isha from House of Ruth put it, "It's important you educate your children on what healthy relationships look like, as many times students won't be taught in school but rather at home and through media."
Educators: We understand that educators want to ensure that none of their students are going through teen dating violence—and as mentioned above, schools often aren't informed on how to address the issue and prevent it. Hear from youth about the signs, and receive resources from domestic violence organizations on addressing issues of abuse on your campus.
Allies: If you work with youth, it's likely they're navigating their first relationships. Learn how to best support them and get to know people in the movement to end domestic violence that can help!
Why We're Focused on Prevention Funding:
Youth Leader Armaan from SAVE discusses what's at stake: "Without state funding, organizations such as CPEDV and SAVE simply don't have the resources or bandwidth to continue the necessary work that they do to prevent teen dating violence and other forms of intimate partner violence. That means fewer prevention specialists who can educate teens about teen dating violence through, for example, presentations. That means less money going into underserved communities where societal negligence continues cycles of IPV. That means less access to mental health resources like therapy that can help prevent teens in this day and age from falling victim to teen dating violence."
Ana Campos, Youth Leader at Laura's House, continued: "Prevention is so incredibly important because it not only educates everyone on how we can all as a community be better, but it can actually save lives. And with no state funding for prevention, it puts so many more young teens at risk and slows down the process of moving forward."
Please help spread the word by sending this event info to your friends and colleagues!
Speaker Lineup:
Youth Leaders:
Ana Campos and Randi Zuckerman from Laura's House
Amilia Cravens from Strong Hearted Native Women's Coalition
Armaan Sharma from SAVE
Ashton Molendyk & Nicole Alvarez from One Love
Maya Henry from Peace Over Violence
Adult Allies:​
Assemblymember Jones-Sawyer
Assemblymember Rubio
Floyd Jeffries, Violence Prevention Educator at Peace Over Violence
Jennifer Khalifa Ponce, Senior Director of Prevention Strategies at the California Partnership to End Domestic Violence
Melodie Kruspodin, Prevention Specialist at the California Partnership to End Domestic Violence
Ashleigh Klein-Jimenez, Director of Prevention at VALOR
Questions? Please contact Jessica Merrill at jessica@cpedv.org.
Related Links