Voter Engagement As a Non-Profit and in Your Community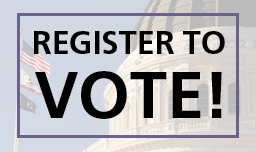 Every vote matters! Voting is an important way to make your voice heard on the issues facing our state. There are many important issues at the national, state and local level and voting sends a strong message about the people who should represent you and your community.
You and your community have the power to make change, educate yourselves and others about the issues you care about and elect the representatives that would best represent your community. You can impact changes in your community and support a positive future.
You have the power to participate in voter engagement activities including registering people to vote, providing information about the voting process like dates and deadlines and also letting people know about candidate forms and debates. As a trusted community organization interacting with individuals every day, you can fill an important role by providing information and resources for your community.
Online Voter Registration
California now allows online voter registration. This can be an easy and convenient option for you, your staff, and your clients.
Share the link: http://registertovote.ca.gov/ and encourage folks to register.
Online registration is available in English, Spanish, Chinese, Hindi, Japanese, Khmer, Korean, Tagalog, Thai and Vietnamese, a great accessibility element for many of our communities.
Paper Voter Registration
Any nonprofit 501(c)(3) can provide copies of the voter registration forms as a part of your nonpartisan voter engagement activities.
You can get a paper voter registration application at your county elections office, library, Department of Motor Vehicles office or U.S. post office.
To obtain more than a handful of forms, contact your county elections office or the California Secretary of State's Office.
If you need 50 or more voter registration cards, complete and submit a Statement of Distribution form, which is located here.
This is an excerpt from our
2016 Voter Engagement Guide
, created by the Partnership and the California Coalition Against Sexual Assault.
Related Links