Domestic Violence Awareness Month 2016
In October, the Golden State Turns Purple

Over the past two years for Domestic Violence Awareness Month (DVAM), you've helped Turn the Golden State Purple–the color of our mighty movement. This October, can we count on you to help spark real change for California communities? Please join us for a month-long series of activities that bring our focus from individuals to families, and communities to culture shifts in a campaign called From Portrait to Panorama. Each week takes us through that journey:
Week 1: California's Survivors – Underrepresented groups, including survivors who are incarcerated and immigrant survivors
Week 2: Healing for Whole Families – Advocacy beyond leaving, batterer's intervention programs
Week 3: Community Supports – Accountability alternatives to the criminal legal system, restorative & transformative justice
Week 4: Shifting Culture with Public Policy – Economic justice, school policies that address adolescent dating abuse
Click on the calendar image below to get started!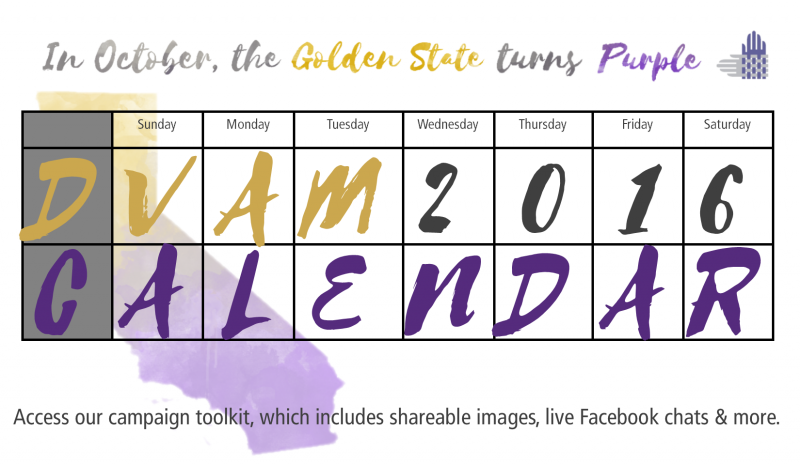 In our DVAM calendar above, you'll find daily tools under each of these themes throughout the month of October. These will not only help you raise awareness of the struggles the most marginalized survivors face, but also learn about innovative and nontraditional community solutions. Most importantly, the Partnership, our members and allies will present concrete steps you can take to end domestic violence in our Golden State.
We will be adding a few exciting updates to the calendar over the next few weeks, so feel free to save the link to this campaign page for the latest version (as opposed to downloading the PDF calendar).
Here's what you can expect from our DVAM 2016 Campaign this October. All of these items can be found in our calendar above!
A Series of Live, Interactive Facebook and Twitter Chats on our Weekly Topics: We have a shareable ad for each chat–so you can participate and share it with your own social media followers!
Getting to Know Our Movement through YouTube: Watch short videos of our members talking about how their current work relates to our weekly themes. This is great, shareable content for your social media followers! Videos will be debuted the morning of their assigned calendar days.
Social Media Images: These "Did you Know?" images provide essential facts and conversation-starters for each of our topics.
Member Exclusive! Traditional Media Guide: This updated guide will take our members through the process of creating effective and compelling messages for op-eds, letters to the editor, and more. Interested in becoming a member? Click here!
Twibbon: Use our profile picture overlay to show that you're Turning the Golden State Purple!
Selfie Signs: Take pictures with friends, family members, colleagues–even your pets! We have general DVAM signs as well as #PurpleThursday-specific signs (#PurpleThursday is October 20th).
Member Exclusive! Sample Proclamation: This is one way members of the Partnership get support in standing out! We provide a customizable sample proclamation, and if local elected officials adopt it, we'll light up the community in purple on our map during #PurpleThursday (October 20th)! Interested in becoming a member? Click here!
As always, feel free to contact us at info@cpedv.org with any questions. We're looking forward to an amazing DVAM with you!
Related Links