Domestic Violence Awareness Month Sharing Session
Prevention Peer Network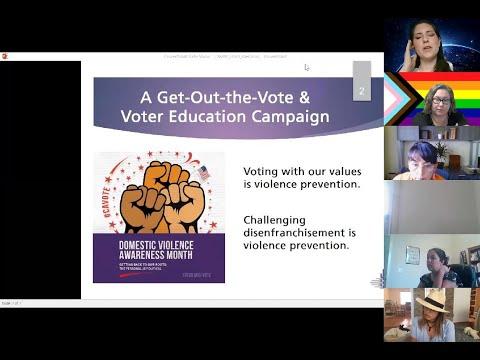 Domestic Violence Awareness Month 2020: VOTE!
Getting Back to Our Roots: The Personal Is Political
Hosted 8/20/20
Like many of our Members, we've been planning Domestic Violence Awareness Month with a focus on amplifying survivor and youth voices. The truth is that our campaigns will be different this year. Physical distancing, a recession, and deep inequities have created real barriers to safety and community building. So, during this tough time leading up to the election, we believe that inclusive civic engagement is more vital than ever. There's so much at stake. We invite you to learn about our VIRTUAL get-out-the-vote and voter engagement campaign, and also share your plans for community engagement. What is your approach to organizing? How are you nurturing relationships with local partners? How is your campaign furthering racial justice?
Join the conversation next Thursday, August 20th during our Prevention Peer Network Webinar. In addition to creating a sharing space for our Members and partners, we'll take a deep dive into the three pillars of the Partnership's campaign leading up to DVAM and the election:
Promoting voter registration—especially through the confidential Safe at Home program.
Elevating survivors' and young people's stories of voting and organizing—especially those working with rural and culturally specific domestic violence organizations
Educating Californians on the issues relevant to the movement to end domestic violence
For more information, visit our Domestic Violence Awareness and Prevention Month page. We look forward to seeing you and learning about your plans for DVAM!
Presenter:
Jessica Merrill, Communications Program Manager
California Partnership to End Domestic Violence
Facilitator:
Miranda Stiers, Prevention Program Specialist
California Partnership to End Domestic Violence
Resources shared:
Contact Bolder Advocacy for FREE coaching about laws impacting nonprofit advocacy (what we can and can't do as 501c3s)
Ballottrax: Tracking your ballot – when it is mailed, received, and counted – has never been easier.
Check your voter status!
Native Vote - Native Vote is a non-partisan initiative. All Native Vote activities will be conducted in a nonpartisan manner in compliance with IRS rules and regulations and will not constitute prohibited political activity.
Questions?
If you have additional questions regarding the webinar, please contact Prevention Specialist Miranda Stiers, at miranda@cpedv.org.
Related Links