Domestic Violence Awareness Month 2020: VOTE!
Getting Back to Our Roots: The Personal Is Political

➜ Click here to access our shareable social media images, videos, and Zoom backgrounds!
Voting is an act of liberation. Survivors and youth must have a voice in their relationships and the policies impacting California communities.
The right to vote—the access to do so—is the result of many sacrifices. The honorable John Lewis, who recently passed away, was beaten and jailed for exposing entrenched racism in our systems, and was instrumental in passing the 1965 Voting Rights Act. Throughout California, activists have been leading the way to undo the damaging effects of racist disenfranchisement in local jurisdictions.
For Black, Indigenous and Native, and Survivors of Color, these barriers to voting have been compounded by tactics of power and control in abusive relationships. And youth—especially Black, Indigenous and Native, and Youth of Color—have fought to be heard in agendas that are relevant to their lives and futures. We seek to join the chorus of groups that are demanding a voice in this election. Leading up to Domestic Violence Awareness Month in October and the election in November, our campaign will prioritize:
Elevating survivors' and young people's stories of voting and organizing—especially those working with rural and culturally specific domestic violence organizations
Educating Californians on the issues relevant to the movement to end domestic violence
Promoting voter registration—especially through the confidential Safe at Home program.
>> To protect Californians from the spread of COVID-19, Governor Newsom declared an Executive Order that will issue a vote-by-mail ballot to each voter prior to the November 3, 2020 election, in addition to offering in-person voting locations.
>> If you are a survivor who is NOT enrolled in Safe at Home, send in an application to begin the process of registering to vote confidentially by mail. Please note that while the last day to register to vote is October 19th, it takes roughly 30 days to process an application. We were informed by Safe at Home representatives that it was best to apply for the program by August 31st to account for processing time before the voter registration deadline. However, if they receive applications later than this timeframe, they have promised to still make their best efforts to register participants to vote confidentially. Questions? Please contact Safe at Home for information or contact an Enrolling Agency in your area to get started.
>> Survivors who are enrolled in the Safe at Home Program and registered as confidential vote-by-mail voters will receive their ballots soon.
>> Domestic violence Organizations: Become an enrolling agency for the Safe at Home Program! To spread the word about the program on social media, encourage you to use the shareable images toward the bottom of this page. Questions? Please contact Safe at Home at visit the Safe at Home website directly.
>> Young people who are 16 or 17 years old can pre-register to vote right now online. They will be automatically registered to vote when they turn 18 years old. Preventionists, please help spread the word!
>> Californians who are 18 or older can register to vote online here. We encourage all advocates and preventionists to register!
✓ Where to Vote: If voting by mail is not an option, you can still vote in-person.
✓ Seek Support if You Need it: Sometimes, our ballot choices are extremely limited and go against our values as survivors. This can re-trigger trauma. Our Member Organizations are here for you.
✓ Explore Your Ballot
>> New from our partners at Your Vote. Your Moment: California Voter Education Toolkit
✓ Be Counted: Participate in the U.S. Census. Help our state maintain representation and receive public funding for education, hospitals, and more.
➜ Santa Clara County has created some wonderful, shareable resources to spread the word about the Census.
✓ Learn About the Issues that Directly Impact Survivors and Communities
Sexual and Domestic Violence Prevention:

Sheltering at home shouldn't lead to more violence—but survivors and their children are currently exposed to abusive behaviors with fewer opportunities to seek help. If healthy relationship and consent skills are built into the fabric of Californians' lives, we could avoid the devastating outcomes we're currently seeing. This doesn't have to be a part of our reality. When we invest in prevention, we ensure that all generations—especially youth—have the tools to break the cycle of intergenerational violence through grassroots work in communities.
Despite our best efforts alongside the California Coalition Against Sexual Assault, this year's budget deficit created the need to defend previous gains in prevention without hope of securing funding for the current budget year. It will take ongoing funding to support local communities in this work, which includes:
Engaging influential adults (teachers, coaches, and parents) as they provide mentorship and guidance to youth
Promoting healthy masculinity and emotional health among boys and young men
Encouraging youth leadership to enhance peer knowledge of healthy relationships and bystander empowerment
Reducing financial stress as a risk factor of intimate partner violence by strengthening economic supports for families.
Voices from the Movement: "I am a survivor, and I work with survivors and people who harm. I know that people who harm learned aggressive behavior by being harmed and being shown harmful behavior as normal. I would rather see people learn to interact in healthy ways BEFORE there is harm, suffering and a need for healing."—Kendall Evans, LMFT, Association for Batterers Intervention Program
COVID-19 and Economic Justice:

There is an established link between financial stress and domestic violence—and COVID-19 has ignited a devastating recession. This has resulted in unemployment that is particularly pronounced for Black, Latinx, and immigrant women, due to rampant inequities in workplace pay, education, and housing.
For survivors, this is compounded by financial abuse and isolation. People who harm have exploited the need for physical distancing to cut off survivors from economic opportunities and support networks. Domestic violence organizations have been ramping up outreach to help survivors safety plan with more virtual options.
Economic justice must include equipping families and individuals with access to living wages and economic opportunity—which supports not only survivors of violence in their healing and establishing safety and stability, but also decreases economic stress in families and reduces the likelihood of domestic violence ever occurring.
Components of this economic stability include workplace protections, paid family leave, Victim's Compensation, CalWORKs, CalFresh, unemployment benefits, affordable child care, and more.
Voices from the Movement: "Survivors of domestic violence have been put in a situation that has made it even more difficult to leave. Many survivors, especially those that are sole providers, may be in situations where they can't miss a day of work to request help because they are the only source of income. Some who are not informed about their rights are in fear of losing their job because of domestic violence. Some fear becoming homeless if they leave the relationship. Economic justice is a prominent issue that affects survivors of domestic violence and needs to be addressed within ALL communities."—Evelyn Magaña, Legal Advocate, Family Assistance Program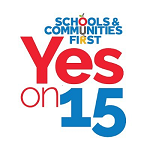 Supporting Proposition 15: Schools and Communities First
At the Partnership, we recognize that survivors, families, and communities rely on a wide range of programs and services in their communities in order to thrive and live healthy, safe lives. Proposition 15 will close property tax loopholes on corporate properties, generating billions of dollars in revenue for local communities to invest in schools and other community needs. As state and county budgets feel the strain of COVID-19 impacts, this increase in revenue comes at a critical time and will have long lasting benefits. Better funded schools mean spaces for children to learn and develop healthy relationship skills, and investments in community colleges can be important avenues to success for domestic violence survivors. In addition to education investments, Proposition 15 will allow communities to invest in community programs – including domestic violence services, prevention efforts, homelessness and housing programs, and so much more. Learn more about Prop 15, Schools and Communities First, by clicking here.
Housing:

Fleeing or attempting to flee domestic violence is a core component of our federal definition of homelessness. However, survivors are often overlooked as a portion of the homeless population, despite the fact that domestic violence is a leading cause of homelessness.
Housing is the most frequently requested type of support survivors seek from domestic violence organizations. Too often, survivors must make an untenable choice between becoming homeless or remaining in/returning to a violent environment. Black Survivors and Survivors of Color have been particularly impacted by a history of policies that codified housing discrimination. This unjust legacy still continues today, and has severely limited housing access and affordability. The economic downturn of COVID-19—coupled with the very common tactic of financial abuse—add compounding factors that make it impossible for many to pay rent.
It is essential to have strong renter supports and ensure that funding for homelessness includes allocations for domestic violence survivors. It is also critical that more funding reaches domestic violence programs through the range of approaches supporting survivors' housing needs: Emergency Shelters under the Domestic Violence Assistance Program, Transitional Housing, and Domestic Violence Housing First.
Voices from the Movement:"Poverty is trauma. Homelessness is trauma.

All of this is only further exacerbated when one is displaced into a bureaucratic and complex system of being unhoused. Most of us women who have been displaced to Skid Row, too often we have done so due to fleeing precarious living conditions such as domestic violence and our trauma is then pathologized as drama. Implicit bias continues to perpetuate, thus, creating the status quo of systemic failures rooted through racial inequity. Given that Black middle aged to elderly women are one of the prevailing demographics displaced into poverty and homelessness, not just year after year but literally decade after decade, tells us the truth as the numbers don't lie. Quality of life is too often not factored in when one is poor/ homeless. Sadly, too often one will die at least twenty years younger once thrust into these disparities.

We can no longer talk about equality and empowerment while continuing to enforce inequities."—Suzette Shaw, Poetess, Skid Row From A Woman's Perspective | Mental Health Peer Advocate, MHA | California Black Women's Health Advocate
Addressing the Criminal Legal System:

Survivors are telling us that they want alternatives for justice beyond the traditional criminal legal system. In a 2015 study conducted by the National Domestic Violence Hotline, women were surveyed about their experiences with law enforcement. 25% said that they would not call the police again in the future, over half said that calling the police would worsen their situation, and two thirds or more expressed fear that the police would not believe them or do nothing. It is clear that survivors—especially Black, Indigenous and Native, and Survivors of Color—need systems that don't reproduce harm.
To truly prioritize survivors' safety and well-being, access to Victim's Compensation should not be reliant upon police interaction—so the Partnership is supporting AB 767 (Grayson) to end this requirement for all victims of crime, as well as expand the program's eligibility after injuries or death caused by police use of force.
The heinous murder of George Floyd and the incarceration of Black survivors are connected by structural racism. Right now, communities are taking important steps to reimagine public safety in a way that doesn't rely on police or the courts—and instead support holistic justice models, like restorative and transformative justice, which seek to center the needs of survivors in the accountability process.
Voices from the Movement: "There are survivors in many communities who don't see law enforcement as a viable option for themselves and their families. The domestic violence field has been grappling with the question of who have we left behind? And that includes grappling with the unintentional consequences of the criminalization of abuse. Community-based responses to crises are already happening, and they're working. We just don't know about it. It's not funded. It's not happening in plain view."—Jacquie Marroquin, Director of Programs, California Partnership to End Domestic Violence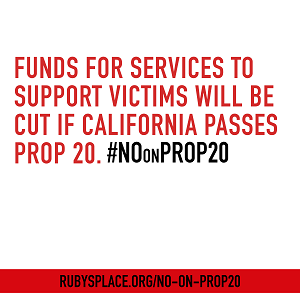 Opposing Proposition 20: As the Partnership has intentionally focused on supporting approaches that provide safety and accountability without relying on incarceration, we believe that Proposition 20 is the wrong approach. We join Californians for Safety and Justice and Ruby's Place in opposing this ballot proposition, which imposes restrictions on parole for non-violent offenders who have completed the full term for their primary offense and expands the list of offenses that disqualify an inmate from this parole program. The initiative also authorizes felony charges for specific theft crimes. Specific to domestic violence, Proposition 20 will require DNA collection from individuals convicted of domestic violence. These components of Proposition 20 would roll back changes made through prior ballot initiatives, Prop 47 & Prop 57. Through Proposition 47, savings accrued by reducing incarceration-related spending have funded Trauma Recovery Centers. By increasing incarceration and its related costs, there would be fewer funds available to support Trauma Recovery Centers.
California must invest in services to support survivors, rehabilitative services such as batterers intervention to reduce the chance of recidivism, and invest in community needs. These are the ways that we will achieve safety and well-being, not through increasing incarceration and limiting parole. We also know increased incarceration will impact communities of color, who are over-represented in the system.
Supporting Communities of Color:

COVID-19 has disproportionately impacted Communities of Color, including higher infection and death rates, economic hardship, and increased vulnerability to sexual and domestic violence. Culturally specific Community of Color organizations are an essential lifeline for survivors, responding to their trauma and safety needs as well as providing access to basic human needs. Culturally specific Communities of Color (COC) organizations have historically been under resourced and have limited access to funding to support the increased needs of survivors resulting from the COVID-19 public health and economic crisis. To address the historical and present-day systemic racism that has caused these inequities, funding must be intentionally directed to culturally specific COC organizations that are led by and for their communities.
Immigrant survivors of domestic violence face increased barriers to safety and well-being, including fears of immigration impacts when reaching out for help and a lack of language access or culturally specific responses. Immigrants are disproportionately impacted by COVID, and any COVID relief must be inclusive and allow immigrants to access benefits and supports. The State of California is in the process of providing 150,000 immigrants with direct assistance—in the absence of any federal support. This pandemic has also highlighted the urgent need for everyone, regardless of immigration status, to have access to healthcare.
Voices from the Movement: "Although we cannot compare one trauma with another, we know what it means to be a survivor of violence and demand justice against overwhelming odds. NO ONE should live in fear of violence. 21-55% of Asian women in the U.S. report experiencing intimate physical and/or sexual violence during their lifetime, based on a compilation of disaggregated samples of Asian ethnicities in local communities. Oftentimes these data and statistics from API communities, and the ways domestic violence and sexual assault impact API communities—causing them to lose their jobs, sense of safety, and their homes, threatened by the circumstance against their race, ethnicity and immigration status—are often underreported and not accurately represented in the decision making process, which results in the misproportion of the budget and resources for the population.

Inadequate resources across sectors to provide culturally and linguistically appropriate services, especially to API survivors and their families, is far beyond the increasing needs of the population with the disproportion of available services. Due to the current pandemic of COVID- 19 and the acts of discrimination against the Asian population, this has caused tremendous disparities among Communities of Color, especially API survivors. It is difficult to get basic needs met, like food due to lack of income, transportation services, social distancing due to the essential jobs they are working, getting stimulus checks due to the eligibility and accessing court due to the reduced hours or virtual hearings." —Natchawi (Nat) Wadman, Community Program Director, Center for the Pacific Asian Family
Natural Disasters:

Wildfires continue to be devastating to communities across California. As we type this, there are several moving throughout Northern California. In previous years, the Camp Fire in Paradise, Sonoma County's Kincade Fire, and the Woolsey Fire in Los Angeles were particularly dangerous. For survivors who are already experiencing trauma or post-traumatic stress, a wildfire can exacerbate intense feelings of fear. Survivors can also face immediate displacement, disconnection from support networks, and a steep climb to finding an affordable place to live (already difficult for the many survivors who are cut off from economic opportunities by the person causing them harm). Domestic violence organizations are an important part of the safety net that supports survivors' emotional and material needs—but funding is continuously scarce. Investing in domestic violence services means strengthening emergency responses in a disaster.
Voices from the Movement: "The Butte County community has suffered a lot in short period of time as a result of natural disasters. As a community we had just begun to recover from the Oroville Dam Crisis when the devastating Camp Fire occurred. I will never forget immediately after the fire I had a counselor in my office concerned about a participant who had been planning her exit. The first counseling session following the fire she sat down on her couch, devastated, saying, 'I'll never find housing now.' This was the first of many stories we continue to hear following the fire. Our experience following significant traumatic events has taught us that we can expect to see an increase in the demand for services in the following months. Nearly two years removed from this event and we continue to see the effects in our work and in the stories survivors share with Advocates. We are concerned, as are many of our sister agencies, about the decrease in available housing and the increased trauma in the lives of the families we serve. It is critical that we continue to invest in programs that provide the variety of supports survivors need."—Anastacia L. Snyder, Executive Director, Catalyst Domestic Violence Services
>> Interested in becoming a member and gaining access to resources like this? Apply today!
✓ Share Campaign Media: Click the thumbnails below, save, and share!
Campaign Logo – English

Campaign Logo – Spanish

Zoom Background – English:
Zoom Background – Spanish:

"Your Vote. Your Moment." Logo – English:

Su Voto. Su Momento." Logo – Spanish:

"Your Vote. Your Moment." Video (Instagram & Facebook):
"Your Vote. Your Moment." Video (Twitter):
#PurpleThursday Image (Instagram & Facebook) – English:
#PurpleThursday (#JuevesMorado) Image (Instagram & Facebook) – Spanish:
#PurpleThursday Image (Twitter) – English:
#PurpleThursday (#JuevesMorado) Image (Instagram & Facebook) – Spanish:
Voter Registration Information (Instagram & Facebook) – English:
Voter Registration Information (Instagram & Facebook) – Spanish:
Voter Registration Information (Twitter) – English
Voter Registration Information (Twitter) – Spanish
How to Vote
(Instagram & Facebook) – English:
How to Vote
(Instagram & Facebook) – Spanish:
How to Vote (Twitter) – English:
How to Vote (Twitter) – Spanish:
Pre-Registration for Youth (Instagram & Facebook) – English:
Pre-Registration for Youth (Instagram & Facebook) – Spanish:
Pre-Registration for Youth (Twitter) – English:
Pre-Registration for Youth (Twitter) – Spanish:

Tamera Rodriguez-Smith:
Advocate, Motivational Speaker, and Domestic Violence Survivor (English)​:

Rosy Miranda: Survivor with El Comite de Mujeres Fuertes, Next Door Solutions (Spanish):

Rose Martinez: Survivor with El Comite de Mujeres Fuertes, Next Door Solutions (English):


More videos to come!

Survivor Homelessness & Racial Inequities (Facebook & Instagram):
Survivor Homelessness & Racial Inequities (Twitter):
Quote on the impact of wildfires on survivors (Facebook & Instagram):
Quote on the impact of wildfires on survivors (Twitter):
Quote on the economic barriers impacting API survivors (Instagram & Facebook):
Quote on the economic barriers impacting API survivors, (Twitter):

Quote on the importance of sexual and domestic violence prevention (Instagram & Facebook):
Quote on the importance of sexual and domestic violence prevention (Twitter):

Quote on addressing the criminal legal system (Instagram & Facebook):

Quote on addressing the criminal legal system (Twitter):

Quote about COVID-19 and economic justice (Instagram & Facebook):
Quote about COVID-19 and economic justice (Instagram & Facebook):
Related Links