Happy Pride!
Explore Resources and Events throughout the State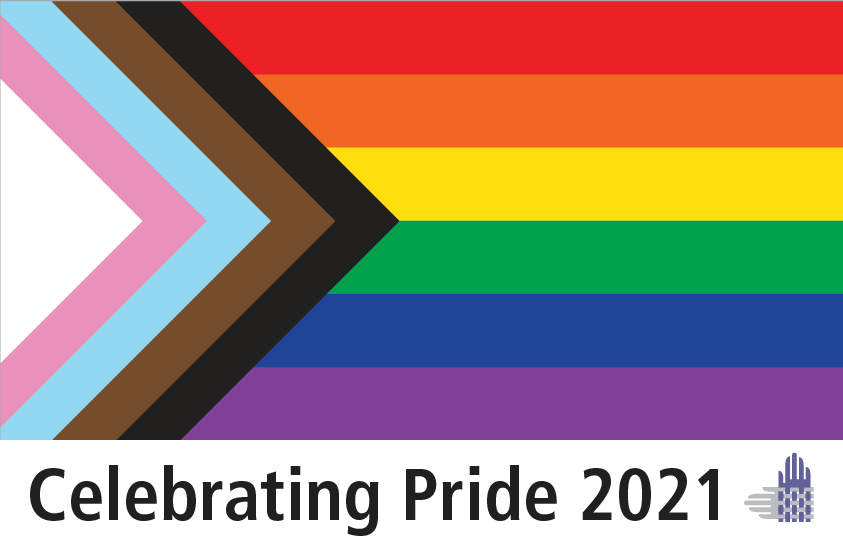 This month, and every month, we celebrate the resilience, achievements, and contributions of the LGBTQIA+ community. We acknowledge the intersections of homophobia, oppression, and domestic violence and we commit ourselves to prevent this violence from ever occurring.
To truly celebrate Pride, we must never forget the history that led us here. Black women and women of color across the queer sexual spectrum (gay, lesbian, and bisexual) started the movement for freedom and protection from police harassment. Lesbians' activism could be seen through a variety of strategies: the arts, literature, economic development, and political activism (see some excellent primary sources here). The Pride March emerged in New York City in 1974—one year after the Stonewall Uprising. During this defining event, Marsha P. Johnson, a Black Trans woman, and Sylvia Rivera, a Latina Trans woman, were part of a group that pushed back against racist police brutality–still a crisis to this day, especially in the context of gender-based violence.
Below you'll find a number of resources and events from the Partnership and our Members throughout the state. Please feel free to send us additional resources here.
Resources
LGBTQI+ Voices Roundtable from the Partnership's 2020 Shifting the Lens Conference
Three Black, queer experts in DV prevention and intervention—Khirin Carter, Shalisa Gladney, and Kiara Lee—painted a vision of an anti-violence movement that fundamentally centers Black LGBTQIA+ people and discuss what's needed to achieve it. This roundtable models what it means to "center the margins". Liat Wexler joined us as the Moderator.
Join the Community of Practice: Prevention with LGBTQ+ Communities – Open to all advocates and preventionists from DV & SA organizations!
Facilitated by Miranda Stiers, from the Partnership, and Sarah Orton, from VALOR.US
Meeting: 1st Thursday of every month from 9am to 10:30am
Register here. Once you've registered, you can attend any session!
Holding Space, Creating Safety Toolkit
A Toolkit for Facilitating Conversations about Sexual and Intimate Partner Violence for Bisexual Peer Support Groups. This joint report is brought to you by National Resource Center on Domestic Violence, Bisexual Resource Center, National Coalition of Anti-Violence Programs & National LGBTQ Institute on IPV.
"I didn't think people would take me seriously"
The Help-Seeking Strategies, Experiences, and Preferences of LGBTQ Survivors of Domestic Violence from National Resource Center on Domestic Violence & National LGBTQ Institute on IPV
Events
In this Panel Discussion, expert panelists who identify as LGBTQ+ will provide insight on the impact of intimate partner violence on LGBTQ+ youth. Our panelists will speak on the various barriers that LGBTQ+ youth experience when disclosing their history of abuse, risk factors for dating violence, advice towards parents and guardians who wish to create a welcoming space to talk about gender and sexuality, and more. All youth attendees will be entered into a raffle to win 1 of 4 gift cards!
Join Pride United, as part of their Pride 2021 programming, in viewing "The Life and Death of Marsha P. Johnson." Stick around after the film where we will discuss the film, and Marsha P. Johnson's incredible legacy and contribution to LGBTQIA+ rights!
QWOCMAP will premiere 19 films in 3 screenings during our FREE virtual Queer Women of Color Film Festival, June 11-13, 2021. The 17th anniversary Festival Focus "Molten Connections" forges new relationships, awakens steadfast bonds of diaspora, and sparks a metamorphosis of love that withstands time. From Chumash ancestors who mapped the stars, to two older queer Latinas rekindling a geode of love, to queer and transgender people of color battling gentrification and displacement, these films resonate across generations and lay the cornerstone for change. All films are Subtitled for the Deaf & Hard-of-Hearing, and ASL Interpretation and CART/live open captions will be provided for live, interactive filmmaker Q&As.
Join the Los Angeles LGBT Center for a special virtual celebration of the TGI/ENBY+ community. Featuring Big Queer Convo, Panels, and Workshops, the VarieTy Show, and much more!
Join Pride United, in partnership with The TRC, for this informative workshop on violence and the bi+ community.
Join Stand Up Placer for a fun filled virtual summer camp for LGBTQ+ youth and allies ages 13-18! These two days will be full of fun, pride, and memories! This is a fantastic opportunity for youth to meet one another while connecting with local resources and learn more about identity, relationships, and themselves.
Pride united invites all LGBTQIA+ people and allies to join us for an afternoon of trivia fun! As part of our Pride 2021 programming, join us in testing your knowledge on all things pride related, there will be a prize!!
Related Links