PPN Webinar: Strengthening Your Digital Privacy and Safety
Prevention Peer Network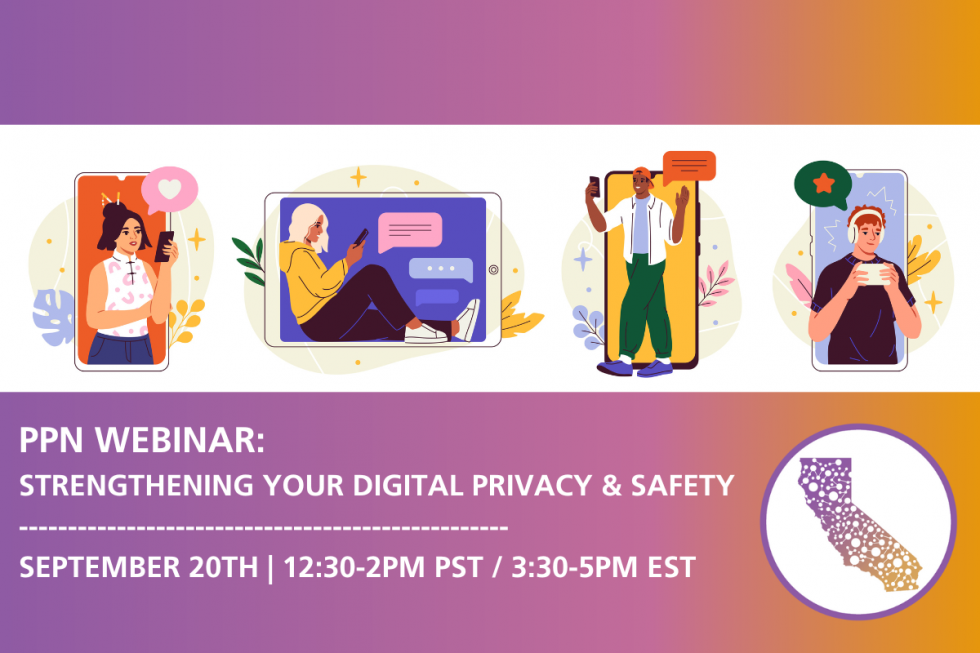 PPN Webinar: Strengthening Your Digital Privacy and Safety
Held on September 20, 2023
12:30-2pm PST / 3:30-5:00pm EST
At the request of the speakers, this webinar was not recorded. Please see attached slides and linked resources below.
Technology advancements bring many benefits to us. On the other hand, we are exposed to new privacy and security issues. In this webinar, we will share with you some tips to protect your online accounts and devices. Moreover, we will discuss decreasing risk factors posed by AI and increasing protective factors for your online identity. Come join us to learn about the prevention of digital abuse!
Presenter(s):
Diana Freed, PhD. (she/her), Fellow at the Center for Research on Computation and Society at the Harvard's John A. Paulson School of Engineering and Applied Sciences and Harvard's Berkman Klein Center for Internet and Society
Julio Poveda, (he/him), PhD Student University of Maryland, Department of Computer Science
Note:
ASL interpreters will be present. Spoken language access is available upon request (please register by September 13th to ensure interpreter availability)
This webinar will be not be recorded.
Nota:
El acceso al idioma, incluidos los intérpretes de ASL, está disponible previa solicitud (regístrese antes del 13 de septiembre para garantizar la disponibilidad de intérpretes)
Questions? Please contact Kimmie Remis (she/her), kimmie@cpedv.org
Related Links