Men in Prevention
Prevention Peer Network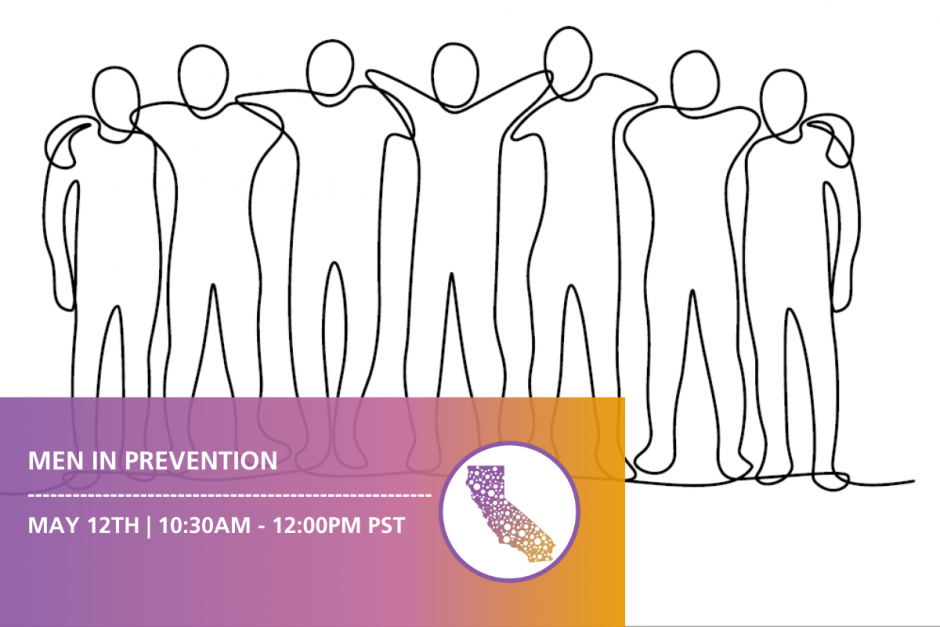 This webinar was be held on May 12, 2022
We know that "the best ideas come from having everyone at the table" (from the Partnership's Theory of Change). Male-presenting preventionists offer a unique voice in the domestic violence movement. Navigating dynamics of both access and barriers, they are often engaged in conversations about what it means to be a "man" doing violence prevention work.
Join us for a panel featuring men from across California, who each have a unique perspective and lived experience that they bring to violence prevention in their communities. Each utilizing their own strategies, we will hear about their challenges and opportunities, how they are engaging youth, mobilizing their communities, and how we as a field can bring other men into the domestic violence prevention space.
Facilitators:
Kimmie Remis, MSW
Melodie Kruspodin
Panelists:
A. Dominique Waltower, Life Development Coach

Dominique is a violence prevention advocate and a dynamic motivational speaker who has presented nationally and internationally about his journey through domestic violence. He speaks about being a victim as a child, becoming abusive as an adult and what was necessary for him to not only change his behavior but to change his thinking about abuse. Dominique speaks about the important difference between a behavior change and a heart/mind change. He speaks about a difficult topic with a candidness and sensitivity that promotes thought, understanding and introspection from the audience. Dominique provides listeners with a rare first person view into the mentality of a former abuser. His authenticity about his experience is very powerful and thought provoking.
Dominique holds a bachelor's degree in sociology and has worked in the social services field for over 20 years. He started working in group homes while in college and has also worked in drug treatment, probation, as an investigative social worker, high school dropout prevention, and more recently as a job coach. Dominique has dedicated a significant portion of his life toward helping and healing others. Dominique also speaks about the need to heal himself highlighting the lack of self care while working in human services. Dominique has been able to take his professional knowledge, personal experience and combine them into a powerful testimony of perseverance, resilience, courage, healing and inspiration.

Armando Ruiz, Lumina Alliance

My name is Armando and I enjoy working in violence prevention. I work at Lumina Alliance in San Luis Obispo as the Prevention Programs Manager. I focus on developing sustainable school-based programming, virtually and in-person, for sexual assault and intimate partner violence prevention. I love this work because it involves developing creative teaching methods, problem solving within diverse communities and preventing a complex public health problem. I'm excited about helping clear the way for more men to become preventionists.
Luis Canseco Garcia, Community Resource Center

Luis Canseco Garcia, Domestic Violence Education and Prevention Program Manager, has worked for the past three years at Community Resource Center in Encinitas, CA. He goes to middle and high schools and colleges across San Diego to educate people on intimate partner violence, and healthy relationships. Luis believes we can prevent dating violence by teaching youth how to create healthy relationships with themselves and others. As a Spanish-speaker, he also delivers trainings and resources to families. And, as a male advocate he engages men to participate in ending gender-based violence. Born in Oaxaca, Mexico, Luis is a first-generation student in the U.S. He got his master's degree in Sociological Practice from California State University San Marcos.
Quinton Page, DOVES of Big Bear Valley
Riko Ramos, Center for Community Solutions

Dr. RiKo Ramos serves as the Director of Prevention, Education, & Advocacy Services at Center for Community Solutions. He began his work in relationship & sexual violence prevention in 2016 working with youth in K-12 and college settings, as well as incarcerated youth. His work focuses on the intersection of socio-cultural norms and violence prevention with a passion for phenomenological research, community mobilization, and youth empowerment. Together we can inspire, empower, and transform our communities by elevating their voices, experience, and strengths!
Questions?
If you have additional questions please contact Partnership staff, Kimmie Remis and Melodie Kruspodin, kimmie@cpedv.org | melodie@cpedv.org.
Related Links