Getting Ready for Teen Dating Violence Awareness and Prevention Month
Prevention Peer Network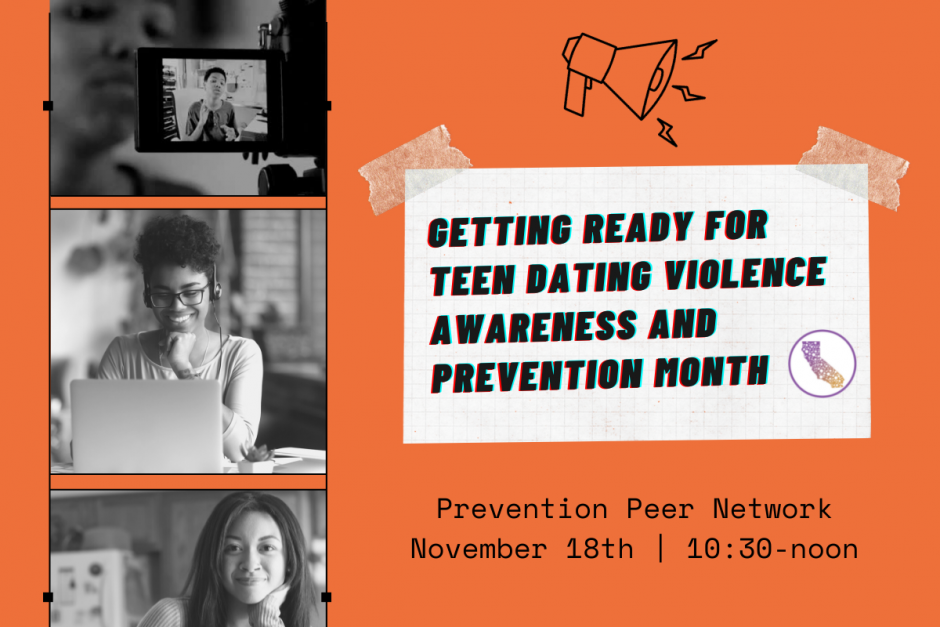 This webinar was held on November 18, 2021
Teen Dating Violence Awareness and Prevention Month (TDVAPM) is coming up this February! Now is the perfect time to begin planning your campaign and get support from your peers. During the next Prevention Peer Network on November 18th, the Partnership will share what we learned from youth leaders and preventionists in our recent TDVAPM focus group.
Some critical next steps emerged for us, determining:
the most effective ways to connect youth leaders with one another throughout the state
how to support youth in organizing with intersecting social justice movements
how we're building the capacity of youth to speak with policymakers at the community and state levels
Join us as we provide a sneak peek into our campaign, which will strive to center racial and gender justice as determined by youth themselves.
The second part of our discussion will be an open space to share your local TDVAPM plans. What have you learned from youth about the intersections of violence and prevention efforts? How have youth inspired change in your local communities, especially as the pandemic continues? How are you challenging adultism? Let's talk about it!
Facilitators from the Partnership:
Michelle Huey, Communications Coordinator
Megan Tanahashi, Communications Coordinator
Jessica Merrill, Communications Manager
Miranda Stiers, Prevention Manager
Social Media:
Podcast:
Resources:
Questions?
If you have additional questions please contact Partnership staff, Miranda Stiers, miranda@cpedv.org.
Related Links