Community Centered Prevention Adaptions During COVID-19
Prevention Peer Network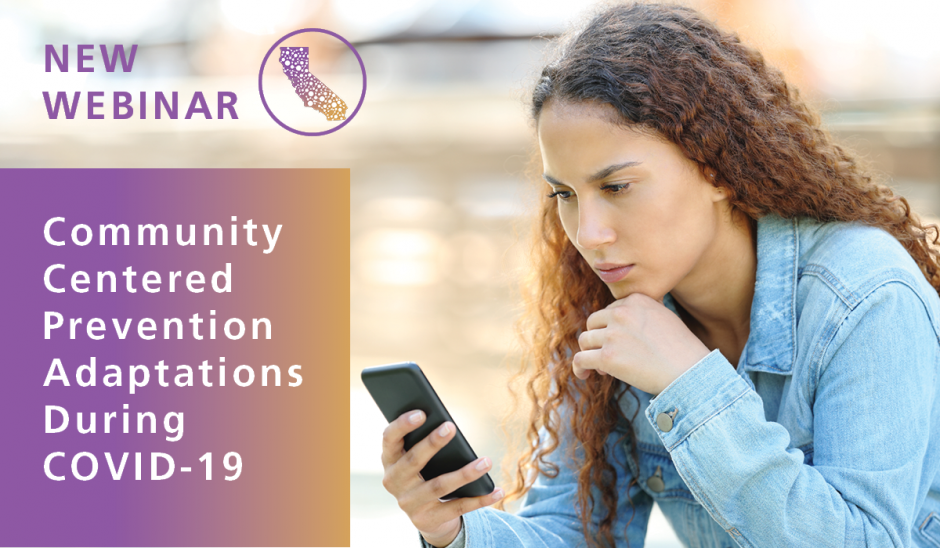 Community Centered Prevention Adaptions During COVID-19
Webinar hosted on May 28, 2020 | +Webinar Recording
In our newest Prevention Peer Network Webinar, we invite you to join us in exploring how organizations are adapting their prevention strategies.

Preventionists Yanira Mendez and Andrew Guerrero from Laura's House, and Melissa Espinoza from SAVE, will share how they are continuing to cultivate trust within their communities during this tough time—particularly through informal relationship-building processes.
Facilitator:
Presenters:
Andrew Guerrero (He/His/Him) is a Prevention Education Specialist at Laura's House and has in both capacities, developed programing specifically geared towards redefining masculinity and the importance of male engagement in the anti-violence movement. He has his Bachelor's degree in Sociology and minored in Chicano/ Latino Studies and Criminology Law and Society at the University of California, Irvine. During his undergrad, Andrew spent 3 years as a peer educator at UCI's Resource Center for people impacted directly or indirectly by power-based personal violence.
Yanira Mendez (She/Her/Hers) is a strong supporter and advocate for domestic violence programs and agencies. Having graduated from UC Irvine with Bachelor's degrees in Psychology and Social Behavior and Criminology, Law and Society, she has since joined Laura's House to continue their mission in providing services to victims and survivors of intimate partner violence. She has been instrumental in developing the agency's crisis text line and expanding their prevention education curriculum. Accessibility, visibility, safety, and connection are the foundation of her work. Through her advocacy, Yanira has grown to have extensive experience in both crisis intervention and prevention education. Yanira's passion in this field continues to guide her to end power-based violence through education while providing proper support to individuals impacted by violence.
Safe Alternatives to Violent Environments (SAVE)
Melissa Espinoza (She/Her/Hers) has been doing prevention for the last 12 years. Currently, she is the Youth Services Program Manager at Safe Alternatives to Violent Environments (SAVE) in Fremont, CA. For the past 4 years, she has been in charge of the Youth Services Program which includes oversight of SAVE's intervention and prevention services for youth and an amazing prevention team!
Rubi Gutierrez (She/Her/Hers) is the Youth Services Program Coordinator at Safe Alternatives to Violent Environments (SAVE) in Fremont, CA. Rubi began her work in prevention in 2016 as a mentor in Fresno's Juvenile Justice Campus where she learned about the prevelance of domestic violence, sexual assault and human trafficking amonst youth. Since then, Rubi has gone on to work for domestic violence agencies and dual agencies as a Prevention Advocate in the Central Valley and in the Bay Area. Rubi takes pride in educating and empowering her youth leaders to be at the forefront of all her community outreach.
Maya Granera (She/Her/Hers) is the Youth Services Program Prevention Advocate, at Safe Alternatives to Violent Environments in Fremont, Ca. For the past 3 years, Maya has been in charge of leading a prevention project through the CalOES grant. Through this grant, Maya has been working with a local middle school leadership class to create school climate change, around healthy relationships. She continues to develop the school leadership and education component for the grant.
Questions?
If you have additional questions regarding the webinar, please contact Miranda Stiers, Capacity-Building Program Specialist
Related Links