Red Bluff Resident Honored with Statewide Award for Domestic Violence Advocacy
Jeanne Spurr of Alternatives to Violence awarded for work "connecting disparate parties to address domestic violence"

FOR IMMEDIATE RELEASE
Red Bluff Resident Honored with Statewide Award for Domestic Violence Advocacy
Jeanne Spurr of Alternatives to Violence awarded for work "connecting disparate parties to address domestic violence"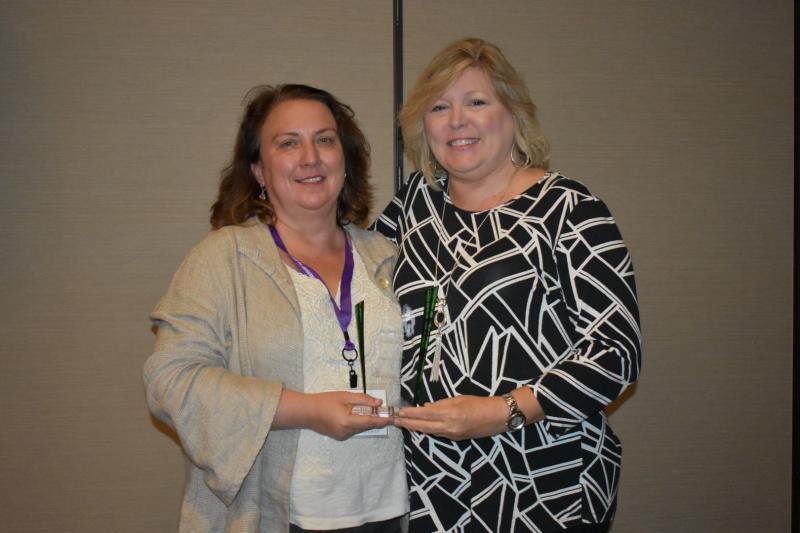 Jeanne Spurr of Alternatives to Violence (right) with Erin Scott, Partnership Board President

September 11, 2017 – Fresno, Calif.: The California Partnership to End Domestic Violence, a coalition representing 1,000 survivors, advocates, organizations, and allied individuals that support survivors of domestic violence, honored Red Bluff resident Jeanne Spurr with the Partnership Award at its annual reception. Ms. Spurr, who works at the organization Alternatives to Violence, was responsible for organizing a Domestic Violence Collaboration Team in Tehama County.
"California is lucky to have dedicated community leaders and advocates like Jeanne Spurr," said Kathy Moore, Executive Director of the California Partnership to End Domestic Violence. "We are proud to honor her today at our annual reception, and look forward to seeing more of her work bringing people together in the years ahead."
"It is my pleasure to join the California Partnership to End Domestic Violence by honoring and recognizing the tireless efforts of Jeanne Spurr. Through Jeanne's actions to improve the quality and accessibility of services for domestic violence victims, Tehama County now has a supportive standard that should be duplicated in all of our communities across California," said Assemblyman James Gallagher.
Under Ms. Spurr's leadership, Alternatives to Violence has just completed a construction project, funded by an EHAPCD grant, for two brand new transitional housing duplexes with a capacity of 32 beds. Tehama County's domestic violence survivors and their families now have a longer term, safe, secure and comfortable option for housing while rebuilding their lives.
# # #
CONTACT:
Joshua Goodman
Mercury LLC for the Partnership
202-577-5810
JGoodman@mercuryllc.com

Related Links