New report demonstrates alarming gap in services for domestic violence victims in California
FOR IMMEDIATE RELEASE: June 10, 2015
Media Contact: Jessica Merrill, Communications & Development Manager: jessica@cpedv.org (916) 444-7163, x118
New report demonstrates alarming gap in services for domestic violence victims in California
SACRAMENTO — A new report reveals 5,784 victims of domestic violence received services from domestic violence programs across California in just one day. These victims could fill legislators' seats in the California Senate and Assembly chambers 48 times over.
All 120 of California's domestic violence programs participated in the National Network to End Domestic Violence's annual Census of Domestic Violence Services on September 10, 2014, and the corresponding report was released earlier this week.
For Lori Whaley, a survivor from Bakersfield and others like her, the services provided by domestic violence programs are critical. Lori's experience illustrates that leaving an abusive relationship is often the most dangerous time—a time when emergency support services are essential: "After all these months, I got the courage to leave him. I walked and walked and walked. I didn't care if I had to sleep outside that night." After being found by her abusive partner and beaten for 20 hours straight, she was able to call the police and get help.
Lori's injuries left her unable to see well enough to fill out restraining order paperwork. An advocate at the Alliance Against Family Violence & Sexual Assault in Bakersfield helped her complete her restraining order: "She was just really amazing with me." Lori also received group and one-on-one counseling at the Alliance Against Family Violence & Sexual Assault.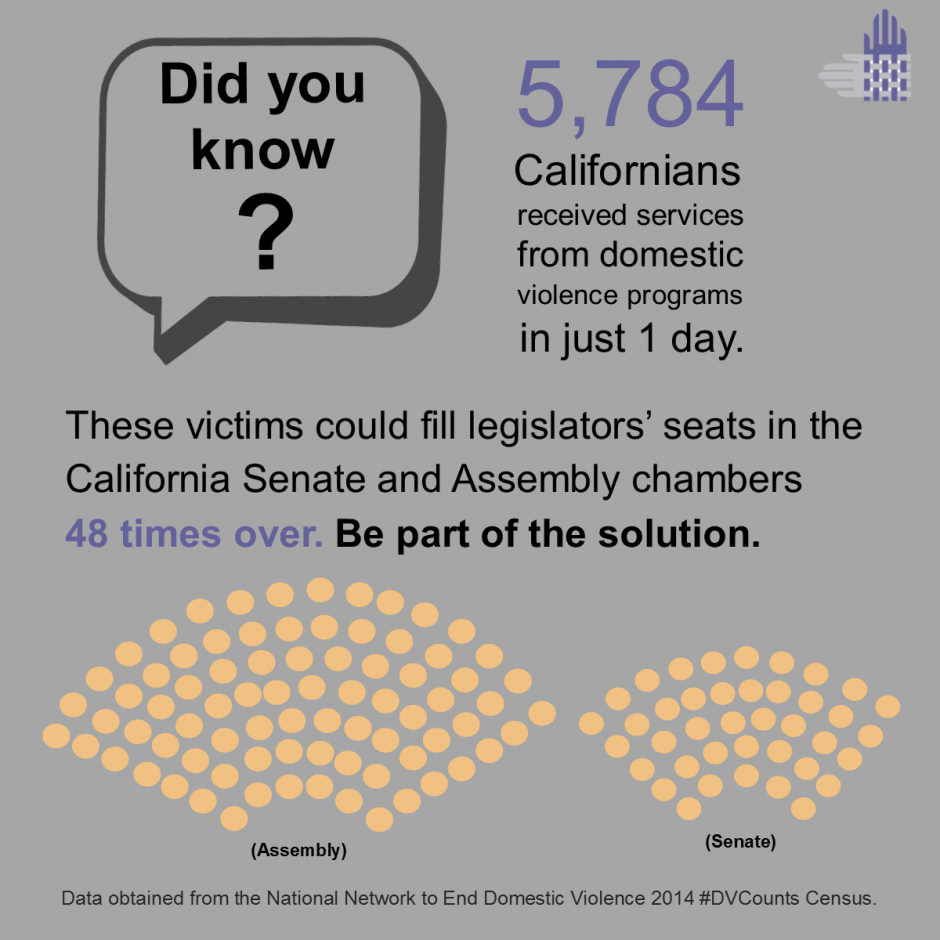 While these programs and services are vitally needed, a gap persists between the demand for services and what programs are able to provide. During the one day census, there were 1,216 unmet requests for services in California. Over one-third of participating agencies (37%) indicated reduced government funding is the reason for that gap, while one-quarter (25%) identified cuts from private funding sources and individual donations (13%) as key factors contributing to their inability to meet these urgent requests for services.
These public and private funding cuts left domestic violence programs severely under-staffed. Last year, programs had to eliminate 147 staff positions, the majority of whom (77%) provided direct services such as shelter, counseling and legal advocacy—services that victims like Lori needed during her time of crisis.
Deep funding cuts mean fewer advocates are able to answer other victims' calls for help and this gap widens right at the time when there are increased requests for assistance. Five years ago California's domestic violence programs served 3,674 victims on the one day census—a 57% increase from 2009 to 2014. A similar comparison of unmet requests for services reveal the widening gap even more clearly—492 requests were unmet on the census day in 2009 compared to the 1,216 unmet requests in 2014, a 147% increase attributed to funding cuts and an insufficient workforce.
Partnership Executive Director Kathy Moore said, "Supporting domestic violence programs is an essential investment in healthy communities. These agencies are not only providing emergency victim assistance—they also offer children's counseling, financial literacy services, community education and prevention initiatives to support healthy relationships with young people throughout the state.
Moore continued, "We have to reverse this growing gap and call upon our government, private sector and individuals to reinvest in our domestic violence safety net." Governor Brown's 2015-16 budget proposal recommends $20.6 million from the state general fund, a figure that has not substantially increased since 2010 despite the documented increase in victim requests for help and widening gap.
Learn more about the 2014 census here: http://nnedv.org/census.
About the Partnership
The California Partnership to End Domestic Violence (the Partnership) is California's recognized domestic violence coalition, representing over 1,000 advocates, organizations and allied individuals across the state. Working at the local, state and national levels for nearly 40 years, the Partnership has a long track record of successfully passing over 200 pieces of legislation on behalf of domestic violence victims and their children. The Partnership believes that by sharing expertise, advocates and legislators can end domestic violence. Through our public policy, communications and capacity building programs, we create system-wide change that supports survivors and invests in prevention. Every day we inspire, inform and connect all those concerned with this issue, because together we're stronger. With offices in Sacramento, the Partnership's member programs span the entire state. For more information, visit www.cpedv.org.
# # #
Related Links