Health Net contributes over $130K in Walmart gift cards to California domestic violence organizations
Critical food and cleaning supplies to support survivors during the COVID-19 pandemic

FOR IMMEDIATE RELEASE: May 27, 2020
Media Contact: Jessica Merrill, Communications Manager – California Partnership to End Domestic Violence: jessica@cpedv.org | (916) 444-7163, ext. 118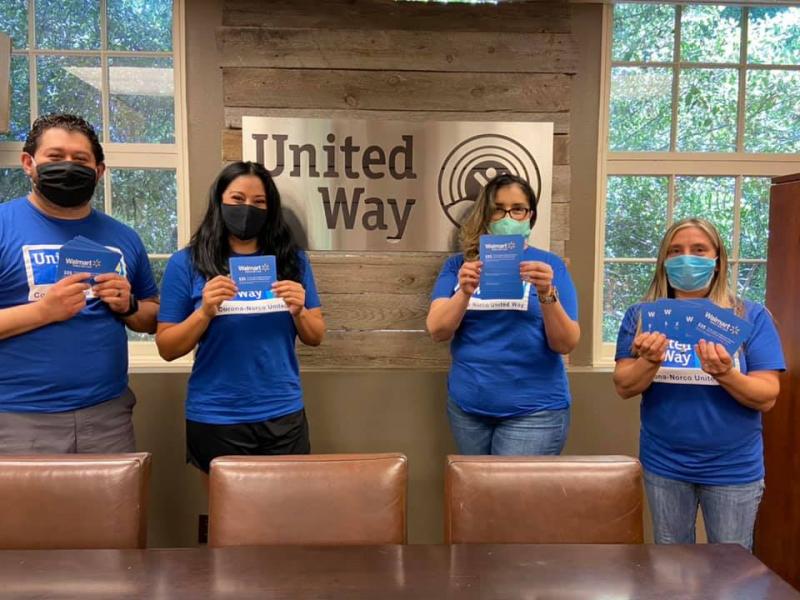 The team at Corona – Norco United Way shows the Walmart gift cards they received to support survivors.
Health Net contributes over $130K in Walmart gift cards to domestic violence organizations throughout California
Critical food and cleaning supplies to support survivors during the COVID-19 pandemic
SACRAMENTO, CA — During a time when crisis calls to domestic violence organizations are spiking across the state, Health Net has donated over 3,800 Walmart gift cards to help survivors meet basic needs—and help maintain stringent cleaning standards in shelters. On May 21, the California Partnership to End Domestic Violence (the Partnership) began distributing these gift cards.
Sheltering in place is needed to stop the spread of COVID-19, but it has also intensified risks for survivors who are isolated with the person causing them harm. Domestic violence is rooted in power and control; and over the past few months, survivors have faced heightened emotional and physical violence, fewer opportunities to reach out for help, and intense risks associated with financial stress. As essential workers, domestic violence advocates are adapting their safety planning and ramping up support options—often beyond their capacity.
"As with so many, we have felt the impacts of COVID-19, specifically with an increase in domestic violence calls and a decrease in revenue needed to support our clients," said Alia Rodriguez, CEO of Corona – Norco United Way. "But through the generous donations of the community and organizations, we have been able to provide our survivors direct assistance funding and Walmart gift cards to buy food, medicine and essentials for their families. While our clients and staff are extremely humbled and grateful, it is what these offerings symbolize that have meant the most—faith and hope."
Health Net's gift cards will supplement a number of strategies used to support survivors after they have experienced financial abuse—a highly prevalent tactic where people who harm control survivors' spending, deliberately ruin their credit, deny them of school and/or career opportunities, and more. When survivors have access to groceries and other necessities, this increases the success of short- and long-term support provided by domestic violence organizations, including emergency shelter, hotel rooms, and direct financial assistance.
"My Sister's House is so excited for these gift cards from Health Net and the Partnership," said Nilda Valmores, Executive Director of My Sister's House. "These cards will supplement My Sister's House's effort to help our immigrant survivors, especially as they try to move or stay in their own apartments and be safe from their abusers. They already were struggling to make ends meet and these gift cards will bring smiles to their faces and to My Sister's House team members."
Health Net and the California Partnership to End Domestic Violence have been able to provide over $1,000 to every organization that requested it, while also committing extra funds to those in rural areas and serving immigrant survivors.
"We have surpassed day 100 of this national pandemic, making it increasingly important to find ways to uplift individuals and families that are struggling," said Brian Ternan, CEO of Health Net. "As the needs of our local communities grow, we hope these gift cards will help victims and survivors of domestic violence during this incredibly challenging time for California's most vulnerable populations."
"These gift cards will make material differences in survivors' lives, at a time when they shouldn't have to worry about meeting their basic needs. Ultimately, they will free up more space to focus on healing," said Jacquie Marroquin, Director of Programs at the Partnership. "We are deeply grateful to Health Net for reaching out and supporting survivors during this vital time."
About the California Partnership to End Domestic Violence
The California Partnership to End Domestic Violence (the Partnership) is California's recognized domestic violence coalition, representing over 1,000 survivors, advocates, organizations and allied individuals across the state. Working at the local, state and national levels for nearly 40 years, the Partnership has a long track record of successfully passing over 200 pieces of legislation on behalf of domestic violence victims and their children. The Partnership believes that by sharing expertise, advocates and legislators can end domestic violence. Through our public policy, communications and capacity building programs, we create system-wide change that supports survivors and invests in prevention. Every day we inspire, inform and connect all those concerned with this issue, because together we're stronger. With offices in Sacramento, the Partnership's member programs span the entire state. For more information, visit www.cpedv.org.
About Health Net
Health Net believes every person deserves a safety net for their health, no matter their circumstances. We're dedicated to putting this belief into action for the benefit of our community through substance abuse programs, behavioral health services, employee assistance programs, and prescription drug managed health care products.
For 40 years Health Net has offered health plans to individuals, families, businesses, and people with Medicare/Medi-Cal. Today, our 3,000 employees and 85,000 network providers serve nearly 1 in 12 Californians. We offer these plans and services through Health Net, LLC and its subsidiaries: Health Net of California, Inc., Health Net Life Insurance Company, and Health Net Community Solutions, Inc. These entities are wholly owned subsidiaries of Centene Corporation (NYSE: CNC), a Fortune 50 company providing health coverage to more than 20 million Americans.
###
Related Links