Chino Resident Honored with Statewide Award for Domestic Violence Advocacy
Tracy Evanson of Healed Women Heal awarded for work "taking risks, using exceptional creativity, and embracing nontraditional strategies to address domestic violence"

FOR IMMEDIATE RELEASE
Chino Resident Honored with Statewide Award for Domestic Violence Advocacy
Tracy Evanson of Healed Women Heal awarded for work "taking risks, using exceptional creativity, and embracing nontraditional strategies to address domestic violence"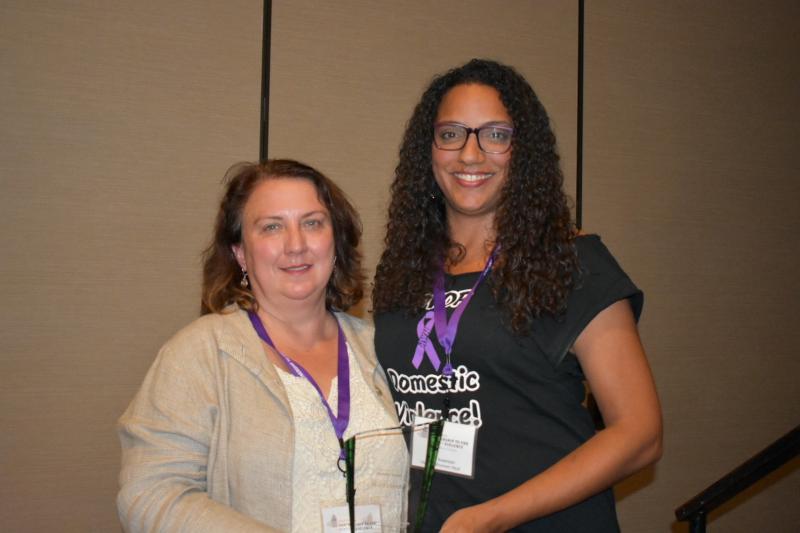 Tracy Evanson (right), of Healed Women Heal with Partnership Board President Erin Scott
September 11, 2017 – Fresno, Calif.: The California Partnership to End Domestic Violence, a coalition representing 1,000 survivors, advocates, organizations, and allied individuals working to support survivors of domestic violence, honored Chino resident Tracy Evanson with the Bravery Award at its annual reception. Ms. Evanson, who works at the organization Healed Women Heal, empowers survivors to pool their resources and to use their stories to empower each other.
"Our state is lucky to have a dedicated community leader like Tracy Evanson," said Kathy Moore, Executive Director of the California Partnership to End Domestic Violence. "We are proud to honor her today at our annual reception, and look forward to seeing more of her work supporting survivors in the year ahead."
"I am so pleased that 20th State Senate District constituent Tracy Evanson from Healed Women Heal is being recognized for her hard work and commitment on behalf of domestic violence survivors by the California Partnership to End Domestic Violence. There is no doubt that Ms. Evanson's remarkable work across the Inland Empire and California has helped to inspire and support many women and families in our local communities," said Senator Connie M. Leyva (D-Chino).
Under Ms. Evanson's leadership, Healed Women Heal has provided survivors with temporary shelter, food, clothing, toiletries and household items—all of which are either donated or purchased with funds raised through community outreach and activities that involve the survivors themselves.
# # #
CONTACT:
Joshua Goodman
Mercury LLC for the Partnership
202-577-5810
JGoodman@mercuryllc.com
###
Related Links