HEALING TOGETHER Regional Trainings
Healthy Manhood and Fighting for Gender Justice in Our Communities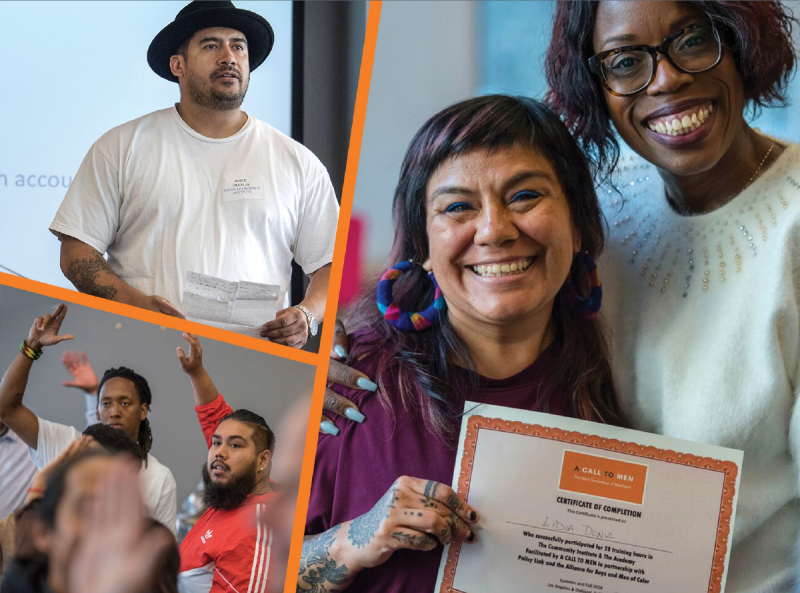 ​The Alliance for Boys and Men of Color and the California Partnership to End Domestic Violence are excited to host HEALING TOGETHER: Healthy Manhood and Fighting for Gender Justice in our Communities—by the international group A CALL TO MEN!
Areas of Focus

Healthy Masculinities
Ending Violence Against Women and Girls
Holding Ourselves and Our Brothers Accountable
Providing Hope and Healing for Men
The Intersection of Race and Gender Justice

2019 Institute Convenings (Remaining venues to be announced shortly)​:

August 1-2, Long Beach, CA | The Museum of Latin American Art: 628 Alamitos Ave, Long Beach, CA 90802
September 23-24, Del Norte, CA | Yurok Tribal Headquarters: 190 Klamath Blvd, Klamath, CA
This training is full. October 21-22, Bay Area, CA | Oakstop - 1721 Broadway, Oakland CA 94612
December 11-12, Riverside County, CA | Charles Meigs Community Center at 21091 Rider Street, in Perris (Language Interpretation will be available at this Riverside Institute only)
➜ Limited travel assistance is available.
WHY & CONTEXT
Together we've taken a fearless look at the responses we've created over the last 40 years with the aim of preventing and ending domestic violence—and we keep returning to the central premise that we must center the voices, lived experiences, wisdom and wishes of those most impacted by this issue.
Many survivors strongly assert they want the abuse to stop—while at the same time expressing love and hope for a healthy relationship. These survivors don't always find long-term support when they reunite their families. Many reach out to find help for the person who is harming them. They seek support for rebuilding a safe and respectful relationship—and preventing abuse from ever occurring again.
California's movement to end domestic violence, in partnership with boys and men of color, is seeking to honor these survivors' desire to connect accountability alongside a commitment to the well-being of their whole family. This led us to some central questions:
What would it look like for more boys and men to promote this accountability for peers who cause harm?
How can we move toward a future where people who harm do the deep, introspective work needed to change their behavior, and work to be accountable to survivors AND the community around them?
Can more people who have caused harm assist in preventing future violence? Can they use honesty and vulnerability in efforts to shift attitudes among their own social groups?
We know that many work hard to expand the movement and be ever-more inclusive, stressing that everyone has a role in ending domestic violence. If we are to end domestic violence, we must gain more public commitment from people who have caused harm, and look at how they can contribute to the movement.
At these regional institutes, we'll explore holistic methods of accountability that also include hope and healing. The overwhelming response to this year's Shifting the Lens Conference was a desire to continue this complicated and, perhaps uncomfortable conversations with other social justice movements. In response, we are prioritizing depth versus breadth by hosting this series of two-day intensive trainings throughout the state. The next Shifting the Lens Conference will take place in Fall 2020.
WHAT
This two day "Community Institute" is an opportunity for folks within the Alliance for Boys and Men of Color and Domestic Violence Advocates to talk about healthy masculinity, ending violence against women and girls, holding ourselves and our brothers accountable, providing hope and healing for men and the intersection of race and gender justice. We believe men doing this work are making a positive contribution to their families, their communities and humanity at large, and during our time together we will get to go deep on these issues to learn from each other, have honest conversations, and find ways to engage even more men and boys in the movement.
HOW
A CALL TO MEN conducts community conversations like these at the international, national and community level. They are designed to give intimate and in-depth education on healthy, respectful manhood. They explore the history of movement building in the United States, male socialization and its intersection with violence against women, the intersections of oppression, the politics of accountability, trafficking and demand, and community organizing.
LOGISTICS
There is limited capacity for this event. By registering, you are agreeing to participate in the full two days of the Institute. If you are unable to participate in the full two days, we ask that you pass on this opportunity to allow space for those who can.
The event is open to members of the Alliance for Boys and Men of Color and to Domestic Violence Advocates in California. POC, people with disabilities, preventionists, men and young men of color, all identities along the gender spectrum, and community leaders are especially encouraged to register. Limited travel assistance is available.
Questions? Feel free to contact us at info@cpedv.org.
Related Links