Emergency Alert: Call and Tweet to Leader McCarthy today!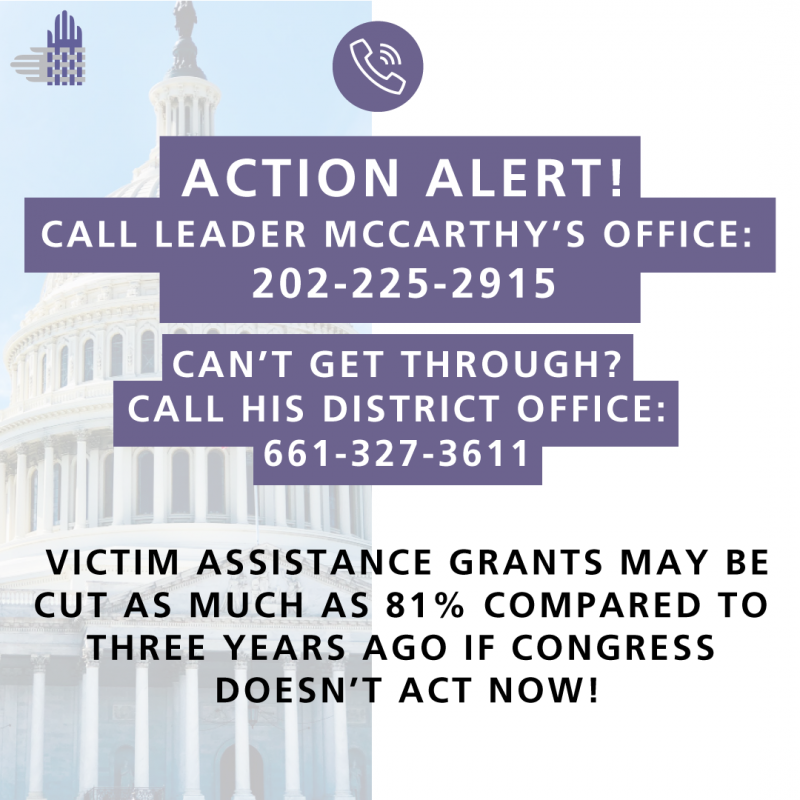 Congress is finalizing its year end funding bill RIGHT NOW, and it MUST include important provisions to prevent catastrophic cuts to Victims of Crime Act (VOCA) grants. VOCA grants are being cut every year, because VOCA's non-taxpayer funded Crime Victims Fund is running out of money due to record low deposits of criminal fines and fees into the Fund. Congress can fix this by passing the 'deposits fix' before the end of the year to redirect money from criminal settlements into the Crime Victims Fund (more on the problem and the solution can be found here). Victim assistance grants may be cut as much as 81% compared to three years ago if Congress doesn't act now!
To get the deposits fix over the finish line, we urgently need House Minority Leader Kevin McCarthy's help - TODAY AND TOMORROW! Use the numbers in the image above and the sample script below.
Sample Script:
"My name is [your name], and I am calling from [your location and, if applicable, your program]. Critical victim services, including services for victims of child abuse, domestic violence, sexual assault, trafficking, drunk driving, and other crimes are facing catastrophic cuts due to record low deposits into the Crime Victims Fund. On behalf of victims and the programs that serve them around the nation, I am calling to ask Leader McCarthy to be a champion for victims and to prevent an 81% cut to VOCA grants by passing the VOCA deposits fix before the end of the year."
AFTER CALLING, use this easy click to Tweet link to tag Leader McCarthy: https://ctt.ac/zKb_O
Related Links