Policy Advocacy Day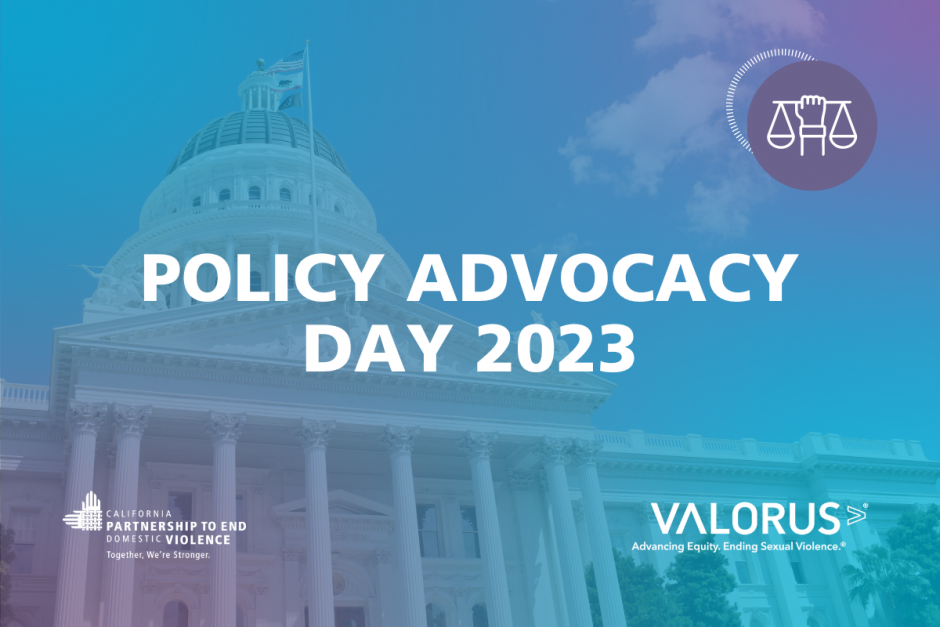 The Partnership and ValorUS® (VALOR) are excited to announce our 2023 Policy Advocacy Day on
May 15th and 16th
in Sacramento.
We invite each Partnership and VALOR Member to help shape the future of California's movement to end domestic violence and sexual violence. During Policy Advocacy Day, our voices will be heard at the Capitol! Don't miss the opportunity to share your voice and advocate for our policy priorities. Our agenda is currently being developed, and we look forward to sharing it with you soon.
+ CLICK HERE TO REGISTER
The Partnership y VALOR se complacen en anunciar nuestro Día de Abogacía de Políticas 2023 el
15 y 16 de mayo
en Sacramento.
Invitamos a cada miembro de Partnership y VALOR a ayudar a dar forma al futuro del movimiento de California para poner fin a la violencia doméstica y la violencia sexual. ¡Durante el Día de Abogacía de Políticas, nuestras voces serán escuchadas en el Capitolio! No pierda la oportunidad de compartir su voz y abogar por nuestras prioridades políticas. Nuestra agenda se está desarrollando actualmente, y esperamos compartirla con ustedes pronto.
+ PULSE AQUÍ PARA REGISTRARSE
This event is for Partnership members only – to find out more about membership click here
If you are a Partnership member, you can find more information about Policy Advocacy Day here: https://cpedv.memberclicks.net/policyadvocacyday2023
Related Links