Policy Priorities

The Partnership has been instrumental in the passage, enactment, implementation and enforcement of strong, comprehensive legislation and public policies that address a range of domestic violence issues. In 2022, our policy work has been focused on the following areas:
Funding and Program Requirements
Housing & Homelessness
Economic Justice
Addressing the Criminal Legal System
Prevention
Immigration
In 2020 and 2021, the COVID-19 pandemic made our already planned priorities around survivor homelessness and sexual and domestic violence prevention even more urgent. For more details about our state-level priorities, read our 2021 & 2022 Policy Agenda.
2022 Legislative Priorities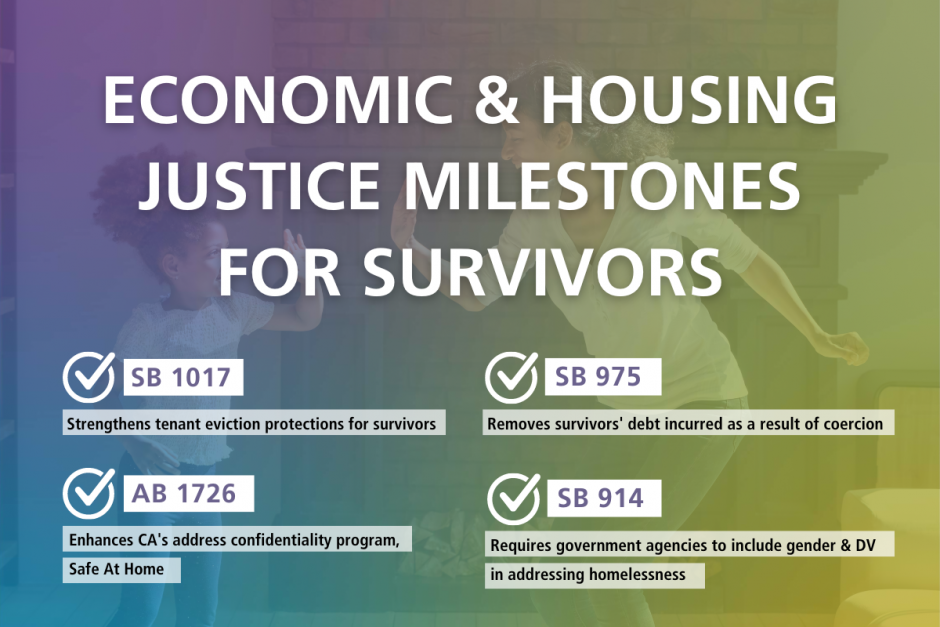 We are pleased to announce that all four Partnership sponsored bills were signed into law! Our priority legislation was focused on various components of survivors' economic security.

According to recent research, fifty-two percent of domestic violence survivors report experiencing coerced and fraudulent debt, and these debts are significant. These debts often burden survivors with repayments they can't afford and ruined credit. Domestic violence is a leading cause of women's homelessness. Nationally, 57% of unhoused women reported domestic violence was an immediate cause of their homelessness.

These critical wins would not be possible without your work. People from across California signed onto support letters, shared their stories, navigated opposition, met with legislators during Policy Advocacy Day, and joined calls to action for this legislation. These are hard fought victories.

This year, our priority legislation included:

SB 975 (Min) - Coerced Debt. This bill will provide survivors with the urgently needed opportunity to seek relief from repaying debts they were coerced into by their abusive partner. This will protect survivors from the undue and traumatic burden brought on by coerced debt. We co-sponsored this bill with Public Law Center and the Law Foundation of Silicon Valley.

SB 1017 (Eggman) – Eviction Protections. This bill strengthens California's eviction protection for survivors of violence to close several loopholes and increase the number of survivors eligible for protection. Supporting survivors in maintaining their housing will support their healing and stability. We co-sponsored this bill alongside the Western Center on Law and Poverty, Californians for Safety and Justice, Family Violence Appellate Project, CUAV and the Women's Foundation of California, Dr. Beatriz Maria Solis Policy Institute.

SB 914 (Rubio) – Homelessness System. This bill will improve California's response to homelessness by requiring cities, counties, and continuums of care that receive state funding to address homelessness to include domestic violence survivors and unaccompanied women within the vulnerable populations for whom specific system supports are developed. Ending the homeless crisis means focusing on all unique populations who have been neglected. This bill was co-sponsored by Downtown Women's Center and Rainbow Services.

AB 1726 (Aguiar-Curry) – Safe At Home. Our final sponsored bill for this year made a range of updates to the Safe At Home program, which allows survivors to receive a confidential mailing address. As a result of this bill, the Safe at Home program will work better for participants and provide greater accessibility for applicants.

The work is not done – now our focus turns to implementation. The Policy Team will host webinars in early 2023 to discuss next steps and how this legislation will support domestic violence programs and survivors throughout the state. Stay turned for details coming soon.
In addition to these bills, the Policy Team and our statewide Policy Advisory Council worked closely on many other pieces of domestic violence legislation, taking positions on a wide variety of legislation impacting programs and survivors. Our focus now turns to the next legislative cycle and the development of our 2023-2024 policy agenda.



We urge you to take action now to continue this work. Your participation makes a difference!
➜ Partnership members, please join our policy round up, regional calls, and upcoming trainings: Explore the Partnership's calendar
➜ If you're not a member yet, please consider joining our coalition.
➜ Please support our policy work by making a donation! Donate to the Partnership.
If you have any questions, please reach out to us at policy@cpedv.org.
Krista Colón & Christine Smith
The Partnership's Policy Team
Ongoing Policy Advocacy: We're currently developing our 2023-2024 policy agenda and will provide updates as soon as they're available.
Funding and Program Requirements
June 28th update: California Governor and Legislature Fail to Fund Domestic and Sexual Violence Prevention in the State Budget
We are working to secure $15 million in ongoing prevention funding in the state budget, continue advocacy for stable and increased domestic violence funding.

This year, the state budget included $15 million in funding for domestic and sexual violence, and the budget previously allocated one-time funding for this purpose in the FY 18-19 and FY 19-20 budgets, at $10 million and $5 million respectively.

Continue advocacy for stable and increased domestic violence funding and support ongoing federal appropriations advocacy. The state provides $20.6 million from the general fund for domestic violence shelter based programs.
Housing and Homelessness
Co-sponsor bill related to the homeless system and domestic violence
Co-sponsor eviction protection bill to address gaps for survivors
Continue to build consistent communications with relevant state agency staff
Support the HOME cohort of 6 domestic violence agencies working to enact systemic change on how the homeless system responds to survivors. Host a series of briefings with the cohort in early 2022.
Host a listening session with California's Victims Compensation Board (CalVCB) to ensure the field has the latest information they need about CalVCB, and for CalVCB staff to hear directly from service providers about gaps and barriers with accessing the program.
Economic Justice
We are co-sponsoring legislation to protect survivors from debt collection for debts they were coerced into. Survivors and families experiencing domestic violence need the economic security provided by a solid financial foundation, including access to food, housing and employment.
Sponsor Safe at Home legislation.
Work with the Department of Financial Protection and Innovation on regulatory items as needed.
Support AB 628 (Garcia, E.) implementation. This bill addresses the needs of individuals who have been disproportionately impacted by the pandemic and face historic systemic barriers to securing a meaningful career.
Support SB 2 (Bradford) implementation and regulatory process. This bill creates a statewide process to cancel professional certificates for officers who abuse their power, including those who commit rape and other forms of violence and abuse.
Addressing the Criminal Legal System
We are working on implementation of the CRISES Act, which will provide stability, safety and culturally informed and appropriate responses to immediate emergency situations.
We are also convening a multidisciplinary group of stakeholders to explore how to reduce the harms survivors and their children experience when interacting with the child welfare system.
Prevention
We are working to secure $15 million in ongoing prevention funding in the state budget, continue advocacy for stable and increased domestic violence funding.

This year, the state budget included $15 million in funding for domestic and sexual violence, and the budget previously allocated one-time funding for this purpose in the FY 18-19 and FY 19-20 budgets, at $10 million and $5 million respectively.
Immigration
Advocate for policies that support immigrant survivors' access to the range of benefits and resources.
Actively oppose policy which creates additional barriers for immigrant survivors.
Support policy to develop options for immigrant survivors to access relief and protection without requiring engagement with the criminal legal system.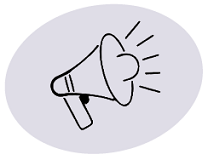 Learn More and Get Involved
Support Our Policy Work
The decisions made in Sacramento and Washington DC directly impact domestic violence survivors and programs. Our ability to advance public policies relies upon private donations and membership dues. Become a member and support our work! If you have any questions, please contact the Policy Team at policy@cpedv.org.
Become a Member

When you join our Coalition, you gain access to our policy advocacy community! No matter where you're starting—as a new member who has yet to visit the Capitol, or a seasoned advocate who has attended lots of legislative meetings—we're here to present learning opportunities, provide calls to action, and hear your input to ensure that our policy work reflects a responsive, integrated approach combining services and social change.
Subscribe to Our Mailing List
Stay updated on our latest policy accomplishments, and receive calls-to-action for supporting key legislation.
How Do We Determine Our Policy Agenda?
Partnership staff gathers input from our coalition's membership about priority needs through policy surveys, topic-specific listening sessions, and monthly regional and statewide calls. We work closely with our Policy Advisory Council to analyze input from the membership and develop our two-year policy agenda, which is then approved by our Board of Directors.
The Partnership's Policy Advisory Council is a robust and diverse group of subject-matter experts and policy advisors who are best poised to provide guidance on the many challenging and complex policy issues the Partnership addresses on the issues impacting all survivors, including those from marginalized communities. In addition to assisting with the development of our 2-year agenda, they also assist with analyzing all domestic violence-related bills introduced in the legislature.
Tools & Resources
The following tools and resources will help you effectively engage in policy efforts.
Find additional policy information and Partnership publications in our resource library.
Learn the rules for non-profits engaging in advocacy work with Bolder Advocacy. Bolder Advocacy's trainer-attorneys provide workshops, resources, and free technical assistance to demystify nonprofit advocacy laws. Their goal is to help you navigate nonprofit advocacy rules and become confident advocates. Bolder Advocacy provides free technical assistance to organizations navigating their rights to participate in and fund advocacy. Please contact them with any questions at 1-866-NP-LOBBY (866-675-6229) or advocacy@afj.org. Para asistencia técnica en español, por favor comuníquense con Sarita Matlin: sara@afj.org o 415-528-3540.


Our Work toward Racial Justice – Holding Ourselves Accountable: View our infographic with each Partnership team's contributions.
Related Links