Culturally Specific Collaborative Convening
Our journey to heal: Transformative Practices in our Communities
A Virtual Convening, June 15-17, 2021 from 9 am – 12 pm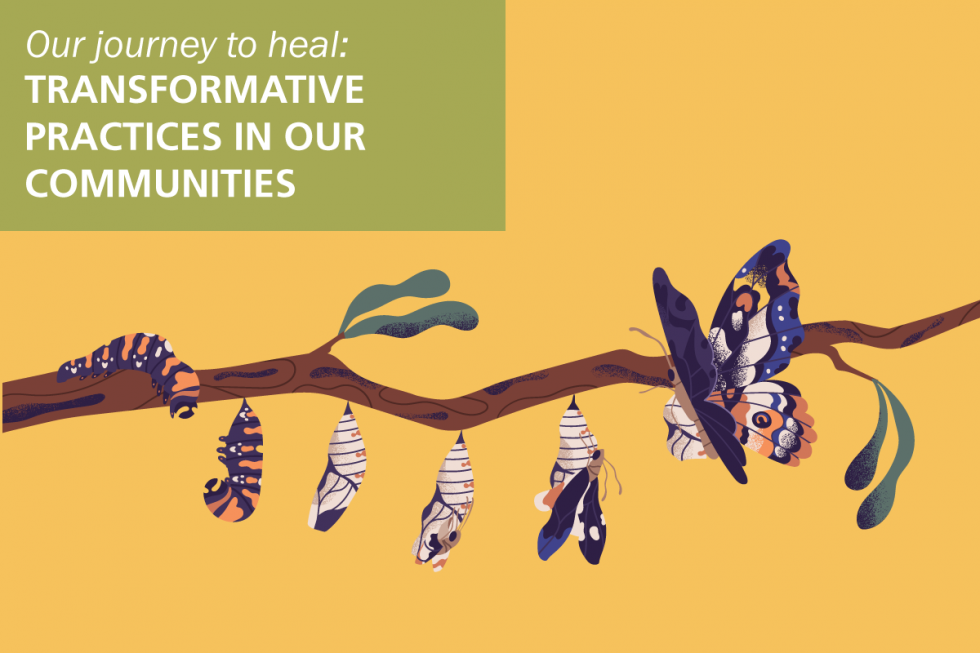 Join the Culturally Specific Collaborative on June 15-17, 2021 from 9 am – 12 pm, for "Our journey to heal: Transformative Practices in our Communities" — a virtual Convening.
Welcome to "Our Journey to Heal: Transformative Practices in Our Communities". This virtual event, centers the experiences of Black, Indigenous, and People Of Color in the committed work of bringing healing and preventing domestic violence in California.
WHY ARE WE HERE?
We are here because of countless others who have gone before us as advocates in organizing towards personal and systemic growth. We carry the energy and spirit of those forgotten, those silenced and those who are resting in peace, as we seek together, creative collective spaces to support deeper self-reflection and ownership of the complexity of life experience within the confines of systems of oppression.
Each generation has a moment in time… and this is ours.
We have been called to rise up, in this moment and time of reckoning with the impacts of oppression in our bodies, minds and of organizational practices.
We choose to powerfully and unapologetically uplift and carry their work forward in this time!
JOIN US in exploring and supporting healing practices, envisioning possibilities for our well-being, and moving toward shared goals of Collective Liberation, Equity and Justice!
Questions? Please contact Mercedes Tune, Capacity Building Program Specialist at mercedes@cpedv.org.
Culturally Specific Collaborative purpose:
"The Culturally Specific Collaborative exists as a response to systemic oppression. As agents of change, We reclaim ourselves, our power and identities and support one another to facilitate our collective healing. We shine light on equitable, inclusive practices to embrace transformation. By taking responsibility for the next generations, We honor the sacrifice of those who came before us and the resilience and strength of our communities."
View the Agenda
Click on each day to see the daily schedule!
Day 1 – Tuesday, June 15th
8:30am – Music and Gathering
9:00am – Welcome and Opening
9:30am – Back to the Roots: Indigenous Healing Practices in Intimate Partner Violence Work presented by Toni M. Schrader (She/Her)
Join as we rediscover our roots and ourselves by sharing fellowship and re-education on indigenous healing practices found within our BIPOC communities. Recommit with us to uplifting cultural practices that honor the beauty, strengths, and histories of our survivors and advocates. We will hold space for education, practice sharing, and processing.
Toni M. Schrader (She/Her) is a Licensed Professional Clinical Counselor and the Director of Counseling at House of Ruth in Claremont. House of Ruth is a non-profit domestic violence agency whose mission centers around the prevention of domestic violence and ensuring the safety of those impacted by it. As the Director of Counseling, Toni oversees the metal health services of children and adults impacted by domestic violence and child abuse/trauma. Toni has been doing domestic violence work for most of her career centering around supporting survivors and working to provide support and psychoeducation to those who cause harm. She has worked as a Partner Abuse Intervention group facilitator, client advocate, therapist, and case manager. Toni is very passionate about the field of domestic violence and mental health and hopes to continue to make a difference in the lives of children and families experiencing domestic violence, community violence, and psychological trauma as well as supporting historically marginalized groups through culturally responsive services and interventions. Toni serves as a core member of the Culturally Specific Collaborative.
11:00am – Break (15 min)
11:15am – Regional Representatives Panel hosted by Daniela C. (She/Her)
Hear about what each region is experiencing and their key highlights. Learn more about how regions can connect with the Culturally Specific Collaborative, and how the CSC can support the regions in their work.
12:00pm – Optional Networking Session (30 min)
Connect with your peers in our optional networking session!
Day 2 – Wednesday, June 16th
8:30am – Music and Gathering
9:00am – Welcome and Opening
9:30am – Supporting Whole Family Healing In Shelter: a roundtable discussion with Nat Calcutta (She/Her) and Nat Wadman (She/Her)
People don't exist in a vacuum. Trauma isn't isolated to the individual. Healing can happen collectively.

Join the conversation as we talk about our strategies in working to support family healing for survivors living in shelter. This conversation will touch on intergenerational trauma as families seek safety, the role of ACEs and understanding them while offering up approaches to survivors in shelter mitigate them. We'll discuss program and activities we can use and offer insight into the importance of cultural norms and practices that can help increase the protective factors for healing from intergenerational trauma.
Nat Calcutta (She/Her) is a Children's Advocate at Catalyst Domestic Violence Services in Butte County. She works to help support children and their parents as they seek safety in the agency's confidential shelter and transitional housing. In facilitating family meetings and positive childhood experience opportunities, providing parental support and resources Nat is committed to helping survivors and their children find stability and healing. She also serves as a core member of the Culturally Specific Collaborative.
Natchawi or Nat Wadman, MSW (She/Her) is Community Program Director for CPAF, previously worked in international development sector for over a decade in different capacity and wide range of work developed organizational youth engagement strategy and its operational model in Asia Pacific and Africa supporting meaningful youth engagement, youth empowerment and youth mobilization within the program and beyond to become leaders of their own development, their communities and society at large. She also supported the country team in Asia Pacific to develop effective program from the design to the learning and evaluation in Health, Education and Livelihood with people-centered approach where the community is at the heart of the program development and evaluation. Nat also led the Life Skill Development program in Thailand using play-based and activity-based learning to enhance life skill development for youth in conflict with law in juvenile detention centers and school-based rural children and youth across Thailand resulting in the new reform of life skill learning in Thai education system and restorative justice practices in Juvenile Justice system in Thailand.
11:00am – Break (15 min)
11:15am – Affinity Group Session hosted by Graciela Olguin (They/Them)
A casual session that invites participants to share and learn from one another. Discussion prompts will also be provided.

An affinity group is a group of people having a common interest, goal, or experience. During this session, we are inviting participants to self-select a breakout room by the group they self identify with.
Graciela Olguin (they/them/theirs) is the Health Program Assistant at Futures Without Violence, and joined as a core member of the Culturally Specific Collaborative in 2020. Their work includes managing the National Health Resource Center on DV training and technical assistance requests, planning the 2021 National Conference on Health and Domestic Violence, among other health equity efforts. Graciela is dedicated to violence prevention at the intersections of health and gender-based violence, intimate as well as institutional, with specific consideration for intersex, trans, non-binary, and gender non-confirming individuals across the lifespan.
12:00pm – Optional Networking Session (30 min)
Connect with your peers in our optional networking session!
Day 3 – Thursday, June 17th
8:30am – Music and Gathering
9:00am – Welcome and Opening
9:30am - Workshop Information Coming Soon!
11:00am – Break (15 min)
11:15am – Fish Bowl Session hosted by Daniela C. (She/Her)
12:00pm – Optional Networking Session (30 min)
Connect with your peers in our optional networking session!
Related Links